Here are the top digital marketing data and case studies that caught our eye.
The average open rate for emails is 17.1% but the number of emails sent to extinct addresses has fallen dramatically as marketers and automation tools take more care to clean their lists, according to new research.
Web users are just as likely to click on natural search results as paid ads, according to new US research from eBay.Findings revealed that non-branded keywords such as 'shoes' do have a positive impact on new users, and on influencing purchases by infrequent users. The study found that targeting uniformed users is still a critical factor for successful advertising, but customers who frequently use sites such as eBay are not influenced by non-brand keywords. Once suspended, the paid clicks were driven down to zero. This led to a noticeable uptake in natural clicks, with 99.5 per cent immediately captured by natural search traffic.
View a sample from the research paper below:
The World Cup is the biggest sporting event in the world, searched for more than the Olympics, the Superbowl and the Tour de France combined, according to new research from Google which looks at how marketers can engage the new mobile savvy generation of fans.
Key findings from the report include:
• Mobile Fans: UK fans are over two-and-a-half times more likely to search on mobile during major live football events than other devices compared to four years ago
• Most Searched: There have been more global searches for the World Cup between 2010 - 2014 than for the Olympics, Tour de France and Superbowl combined
• Most Watched: 64.7m hours of football-related YouTube footage watched globally in the past month
This past TV season saw many US programs launch beyond the screens we web users watched (and tweeted about them) on social media. This study from Nielsen looks at the top Twitter moments form the past years TV season in the US.
Participants around the world are tapping into the sharing economy, an emerging global trend that some authorities value at more than $25 billion, according to new research from Nielsen.
CASE STUDIES
The Central Intelligence Agency (CIA) has launched a Facebook and Twitter account, revealing a sense of humour that has caused social media buzz… but not everyone has seen the funny side."We can neither confirm nor deny that this is our first tweet," quipped the agency in its first post on Twitter. The Twitter account attracted tens of thousands of followers within hours of launching on Friday. On Twitter the secretive agency was following only 25 other accounts - all US government agencies.Through its own Twitter account, the New York Review of Books attacked the surveillance agency's controversial interrogation techniques.
We can neither confirm nor deny that this is our first tweet.

— CIA (@CIA) June 6, 2014
Looking to repeat the success of its 'Sketches' viral last year, this new video from Unilever's Dove's celebrates the hard work dads put in every day to promote its Men + Care range. See why it's our video viral of the week below..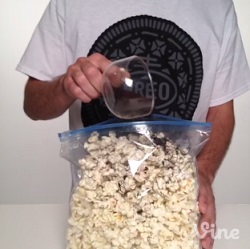 Oreo cookies have won dozens of digital marketing awards for their success in social media, and these vines are a great case study of how a brand can be brought to life to build talkability in just 6 seconds.
Nike, Samsung and Castrol top the chart of the most shared World Cup focused video ads, ahead of brands that are official sponsors of the tournament, according to a new report from Unruly. Coca-Cola, the first affiliated brand to appear in the listing, accounted for 2.5 times fewer shares than Castrol, that sits in third place. Other Word Cup sponsors that fail to make the top 11 include Budweiser (16th), Sony (18th), McDonald's (20th) and Johnson & Johnson (24th)