Here are the top digital marketing data and case studies that caught our eye.
Global mobile advertising revenue reached $19.3bn in 2013, nearly doubling from the year before, according to new data from IAB Europe.
2013 revenue gains over 2012 (€m)



The UK and Denmark are the biggest web shoppers amongst EU countries, according to new research.
The US will reach over 75% by the year end, with Apple and Android still leading the way in terms of phones and operating systems respectively, according to new data.
While new media is growing at a rapid pace, the wealth of the individuals behind them is also skyrocketing. Here's a look at the net worth of new and old media billionaires, and how quickly they amassed their fortune compared to the media moguls of old, courtesy of staff.com.

Staff.com – Connecting Great Companies with Global Talent
CASE STUDIES
Brandtone partnered with Unilever in 2013 to drive the rate of sales across the Dove portfolio in Russia. This case study looks at how the beauty brand linked on-pack promotion with a mobile campaign to drive cross-selling opportunities across Russia- boosting repurchase sales by 21% in some cases.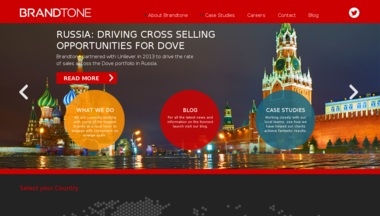 To promote its new line of Persil's Dual Action liquid capsules Unilver worked with AdLabs to create a fun alternative to the usual captcha verification screens. To pass security, Persil are asking users to prove they're human by dragging stain-removing microgranules into the centre of one of their new. The completed capsule then demonstrates its stain removal power by passing over a stained t-shirt to reveal a bright white result.
In November 2013, Flybe partnered with Maxymiser to develop a long-term strategy to improve customer experience across its digital channels. The plan helped transform Flybe's customer engagement with campaign alone providing a catalyst for stunning annualised revenue growth of £8.5 million. This case study looks at how the regional airline achieved success.