Here are the top digital marketing data and case studies that caught our eye.
When it comes to online content and storytelling, there are few sites as savvy as BuzzFeed. New research uncovers the phrases that generate the most amount of shares for the social news site.
Every day more than 30bn WhatsApp messages are now sent, with its monthly active user base now bigger than Instagram and Twitter combined.
The Consumer Electronics Show has become one of the biggest events on the digital calendar, giving us a glimpse into the trends and gadgets that will wow consumers. We look at 8 key launches from the tech trade show.
2014 was another big year for digital marketing, with Facebook buying WhatsApp, the rise of the 'Internet of Things' and mobile growth skyrocketing. This was the year that programmatic ads went mainstream, native ads got smarter and online ad revenue overtook broadcast TV in the US. In this special report, we've gathered together the biggest headlines you might have missed across nine digital categories. As an added bonus, we also look at some of the best virals, worst marketing fails and the weirdest headlines of the year...
Instagram was the fastest growing major social network in the US last year, but Facebook retained its lead, according to new research.
Mozilla's move to make Yahoo default search engine, among other things, have led to Google's search dominance experiencing its biggest drop since 2009, according to new research.
The latest IMRG Top 50 Retailer Ranking, in partnership with comScore, reveals there were a number of online retailers climbing the ranks during November 2014. Ticketmaster UK and Screwfix were both up 8 places compared with the same month last year, while Very and House of Fraser rose 6 places. However, the biggest riser this time was Notonthehighstreet.com, which soared 21 places to 27th place.
Sainsbury's Christmas ad tops the 2014 UK YouTube ads leaderboard, with Nike getting two spots in the top 10 ranking, according to new data from Google which also looks at the leading agencies.
As 2015 gets under way, Nielsen looks at some of the top trends in digital including the latest top U.S. smartphone apps and operating systems.
With the runaway success of 'Ice Bucket Challenge' videos and 'No Make Up Selfies', the BBC recently looked at the key elements that help a brand go viral.
View the video below;
CASE STUDIES
Taco Bell's alternative and savvy social media marketing has gained a strong following by a younger audience and its ramped-up deal with US College Football Playoffs and ESPN offers a unique opportunity to connect with its target market. So, why is Taco Bell's Twitter account such a hit and what does this new deal with College Football playoffs mean for the Mexican fast-food chain?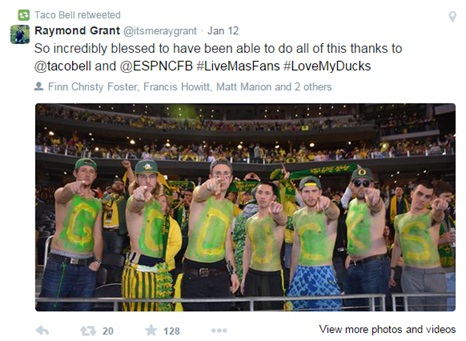 In May 2014, retailer H&M launched Poland's first marketing stunt on Snapchat, hiding exclusive party tickets in its clothing stores and sending cryptic clues via the self-destructing photo app. This case study looks at how the campaign reached 3.8 million unique users via this digital spin on the old 'treasure hunt' game.
Back in 2012, car seat firm Britax saw its target audience were rapidly moving online. In response, the brand worked with Shopatron to produce a holistic digital strategy that embraced click and collect, mobile commerce and inventory optimisation. This case study looks at how the UK brand made smart use of technology to get a sales increase of over 150% each month when compared to the same month in the prior year.