Here are the top digital marketing data and case studies that caught our eye.
How far would most small businesses go to beat their competition online? A new study has revealed the shocking (and illegal) lengths some would go to sabotage competitors' search rankings.
Read the email from Reboot Online in full here
The increasing use of as blocking could cost as much as $12bn in digital advertising revenue in the US, according to a new report.
The average click-through rate for premium native ads on mobile is now 137% higher than on desktop, according to new research.
A couple of months on from Facebook's launch of "Reactions", Facebook has seen its new set of emojis boost engagement with the service, according to new research.
Although time spent on apps forms a good chunk of the overall mobile usage, nearly 25% of apps are only used once before being discarded. This new infographic from Dotcom Infoway looks at how to keep an app user coming back for more.
CASE STUDIES
US-based men's grooming brand USTRAA developed streamlined, Instagram-worthy creative for its carousel ads to promote its shaving line to its target audience. This case study looks at how the brand made smart use of targeting with its hip, sexy image to boost sales 14 times over.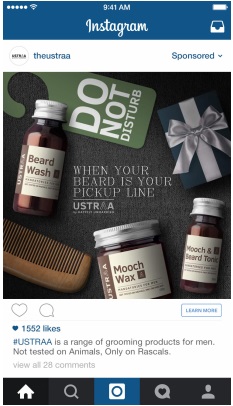 Global auto manufacturer BMW which recently celebrated its 100th birthday, embracing marketing innovations by forming partnerships with brands like xAd and Amplifi using location-based technology to reach desired audiences with the right content, at the right time, in the right place. This case study looks at how the car maker used a location-based marketing campaign to drive sales of its 7 Series.
xAd Showcase BMW X-RAY from xAd Design on Vimeo.
Webtrends Optimize helped Marks & Spencer to achieve a 6% improvement in sales through the delivery of personalised-website experience to returning customers.