Here are the top digital marketing data and case studies that caught our eye.
The rise of web giants such as Facebook and Google have created a difficult problem for marketers, as it places customer data behind 'walled gardens' that they cannot access, according to a new report.
Senior marketers struggle most with Single Customer View, cross-journey optimisation and predictive analytics, meaning they are unable to work out how much is customer is worth to their business, according to new research.
Nine in ten consumers have a severe lack of understanding as to how organisations are using their personal data, according to a new study.
Branded content's impact is superior to display advertising in terms of recall, brand perception and intent, according to a new study.
Mobile advertising growth continues to accelerate and increased 68.2% to €37bn ($49bn) in 2015 from €22bn ($29bn) in 2014, driven by a mobile first consumer world and improving marketing technologies, according to new research.
The share by region of the global figure of €37bn ($49bn) for 2015 is:
• North America: 45% (€17bn / $22bn)
• Asia-Pacific: 34% (€13bn / $17bn)
• Europe: 19% (€7bn / $9bn)
• Middle East & Africa: 0.9% (€0.3bn / $0.4bn)
• Latin America: 0.7% (€0.3bn / $0.3bn)
Growth year-over-year was led by APAC, which saw a 69% leap in 2015. All regions excluding Middle East and Africa grew by over 50%:
• Asia-Pacific – 69%
• North America – 67%
• Latin America – 60%
• Europe – 58%
• Middle East and Africa – 37%
While total UK video ad spend is up, less money is being allocated to the traditional pre-roll format, according to new research.
Ad placement, not ad size, is key for increased accord to a new study looking into viewability trends for programmatic and direct advertising across multiple platforms.
Digital Transformation is essential to keep the largest businesses and brands relevant and competitive in the future. This infographic from Smart Insights looks at the building blocks needed to make the structural transitions to digital.
CASE STUDIES
Fashion shopping aggregator Stylight used a new feature on the Shazam app to stage a takeover of a fashion magazine, turning a print medium into a digital shopping experience. This case study looks at how the campaign let the brand to demonstrate its offerings, creating hundreds of direct sales opportunities, and reached thousands of fashion lovers in Germany.
An eye-catching series of boosted posts drove big gains in recall and awareness for Conimex Wok Paste, the Netherlands' number one Asian food brand.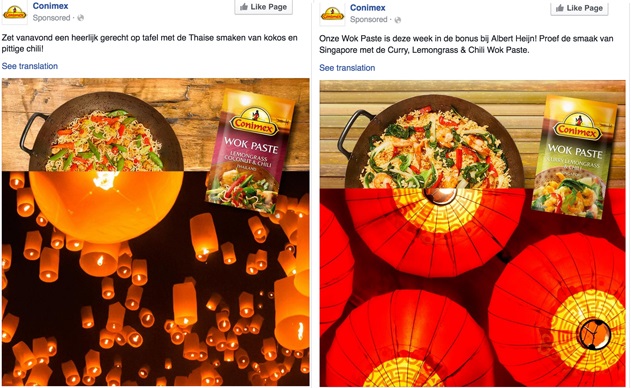 Men's grooming range Axe increased brand awareness with its empowering message of individuality and a cinematic video campaign for the small screen.