Price comparison MoneySupermarket site spent over £97k on mortgage-related keywords in first two months of 2017, but Halifax attracted more clicks and HSBC had the most efficient campaign, according to new research.
The comparison site MoneySupermarket was been named as the biggest UK paid search advertiser on 100 keywords in the mortgage sector during the first two months of 2017, according to new research released by the Kantar Media company AdGooroo.
The study, which examined Google.co.uk desktop activity on the top 100 non-branded mortgage related search terms by paid search ad spend for January and February 2017 identified MoneySupermarket as the biggest spender, with costs totalling £97,000 for this two month period.
The findings show that the top 20 advertisers, which include direct mortgage lenders, comparison sites and advisors, spent nearly £1 million on the keywords studied. Following MoneySupermarket, the top spenders on the mortgage-related keywords were the Post Office (£92,000), which offers mortgages via the Bank of Ireland UK; Age Partnership (£80,000), the independent financial advisor for over 55s; price comparison website Money.co.uk (£68,000); and the big-name mortgage lender Halifax (£67,000).
Whilst MoneySupermarket was the top spender on the keywords, Halifax attracted the most consumer clicks on its ads during the period. According to AdGooroo's study, Halifax's campaign generated more than 151,000 clicks, giving it an average cost per click of just £0.44, compared to MoneySupermarket's 127,000 and £0.76 average cost per click.
Household name bank HSBC demonstrated the most efficient campaign of all top 20 advertisers, coming in 9th place in terms of overall spend, but 3rd in number of clicks. Whilst Halifax had a slightly lower cost per click, HSBC came out on top overall for average clickthrough rate (11.8%).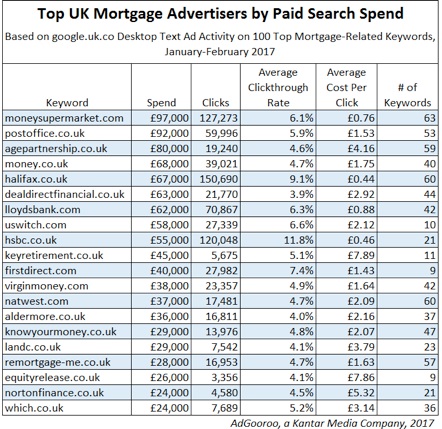 Eric Marcy, Chief Revenue Officer at AdGooroo, commented, "Our findings clearly demonstrate that advertisers in the mortgage sector need to have a good understanding of the competitive landscape in paid search. We found more than 700 advertisers sponsored the top 100 mortgage keywords during the period at a cost of £2 million. Of that total, the top 20 advertisers accounted for nearly £1 million or half of all ad spend, pointing to the intense competition mortgage advertisers face to succeed in paid search."
Some of the top keywords paid for by mortgage service advertisers were 'mortgage calculator,' 'buy to let mortgage,' 'mortgage comparison' and 'mortgage broker.'
Methodology
AdGooroo measures paid search activity on more than 2.5 billion search engine results pages across more than 50 countries and 14 search engines. Our proprietary algorithms and methodologies utilise the search data we collect in conjunction with machine learning and advanced statistical modelling to accurately estimate in-market results at the keyword, ad and advertiser level.
The results of this report are based on a measurement of text ad clicks on the top 100 non-branded mortgage keywords on Google.co.uk desktop from January through February 2017. Advertisers may be sponsoring additional keywords during this period that, if measured, would alter the findings of this report.