Match has launched Ourtime, a new dating service exclusively for those aged 50 years and over.
The move comes in response to research that shows an increase in online dating amongst the older population, with double the number considering it to find romance in 2016 (44 per cent), compared to just 22 per cent in 2013.
Ourtime enables members to meet like-minded people from their area for companionship, through a mix of online activity and targeted, experience-led activities. The TV advertising campaign has been created in partnership with Buzzman to reflect the mindset of those over 50 when dating.

The site also has a dating bot, named Julia. This follows the launch of Lara Bot for Match UK earlier this year. The bot uses the latest Artificial Intelligence technology to engage in a casual and personalised conversation with users who are looking to find romance.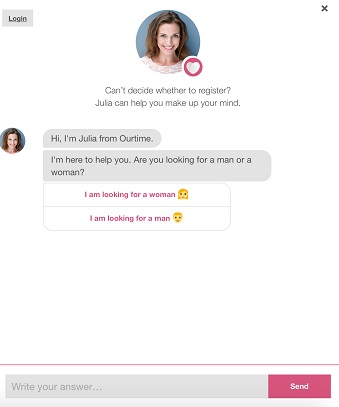 To tap into this target audience and launch the new site, Match enlisted Buzzman to create a TV advertising campaign, which will air for the first time on 17th June.

The campaign is the result of in-depth consumer feedback and insights, and is designed to reflect the mindset of those over 50 when dating. This age group is often entering a new stage in the dating lifespan, seeking companionship, long-term relationships and intimacy. Over three quarters (77 per cent) of those aged over 50 would be happy to have a first kiss within the first week of dating someone and over half (67 per cent) would hold hands[3], proving that whilst they may be older and wiser following past relationships, they still have the same excitement about dating and romance.

Georges Mohammed-Chérif, Chief Executive Officer, Buzzman, comments: "Through this campaign, we wanted to refresh the image of dating amongst the 50+, creating something light-hearted and humorous. The adverts bring this generation's internal emotions and personality to life, showing adults behaving like teenagers."

To make registration as simple as possible, the site has a dating bot, named Julia. This follows the launch of Lara Bot for Match UK earlier this year. The bot uses the latest Artificial Intelligence technology to engage in a casual and personalised conversation with users who are looking to find romance.

Easy to use on a daily basis, the site uses an advanced algorithm to ensure the people they meet are relevant. Members will also have access to exclusive dating activities, allowing singles aged 50+ to meet like-minded daters in their region.

Abbie Oguntade, Vice President of Northern Europe, Match Group, comments: "As an industry leader we understand the needs of singles, and recognise that people do not tend to meet potential partners in their later life in the same way as they might have done when aged 18 or 30. Despite this, the same excitement and anticipation remains and the new Ourtime service and ad campaign reflect this.

"We have seen a significant increase in the number of over 50s turning to online dating, and with the launch of Ourtime, we want to provide a dating service that works for them, and the way that they approach dating."