This week, Microsoft hosted the Microsoft AI media event in London to discuss the intersection of AI, people and society and Microsoft's role and responsibility across this growing technology.
The core of Microsoft as a business is to make AI available to everyone – Bing is integral to this technology and a crucial part of integrating AI across the products unveiled, which included the following:



AI for Earth Initiative – a new Microsoft initiative aimed at empowering people and organisations to solve global environmental challenges by increasing access to AI tools, education opportunities and skills, and accelerating innovation. By placing cutting-edge AI tools in their hands, Microsoft will be empowering researchers and organisations to build a better, healthier and sustainable future, supported by a $2 million investment in grants, education and training opportunities


Seeing AI – The Seeing AI project harnesses the power of AI to open up the visual world to those who are visually impaired. An ongoing project, today it was officially launched as a free iOS app for the blind community that narrates the environment around the user, including people, text and objects (currently available on iOS in Apple's U.S. App Store)


Microsoft Cognitive Services:


Bing Entity Search API: The new Cognitive Service API brings rich context about people, places and things to apps, enabling a more engaging user experience than ever before (currently available in free preview)


Project Prague: Now newly available via the Cognitive Services Lab, this service allows developers to incorporate gesture-based software development kits (SDK) into their apps - developers are able to quickly define and implement customised gestures using hands, creating a more natural user experience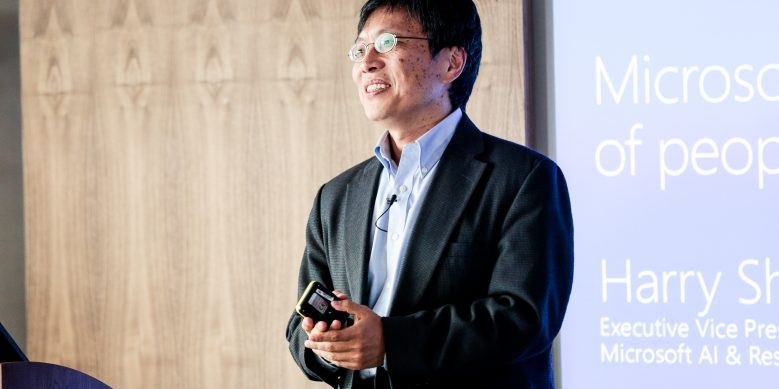 Harry Shum, Executive Vice-President of Microsoft's AI and Research Group, lead the discusiion by outlining Microsoft's vision for AI: It's is about people.
"It's about amplifying human ingenuity through intelligent technology that will reason with, understand and interact with people and, together with people, help us solve some of society's most fundamental challenges."
The event was attended by scientists, technology experts and journalists, who gathered to learn more about Microsoft's AI intentions from Shum and other Microsoft executives, including Eric Horvitz, Technical Fellow and Director at Microsoft Research Labs, Chris Bishop, Technical Fellow and Laboratory Director at Microsoft Research Cambridge, and Emma Williams, General Manager at Bing.
During the discussion, a number of announcements were made that further reinforced Microsoft's focus on AI, including a new programme that will make technology available to those working to tackle the planet's toughest environmental problems.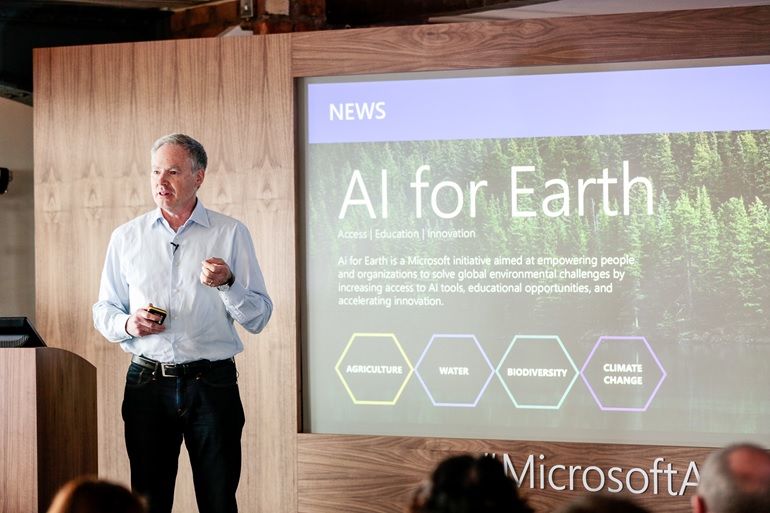 Eric Horvitz, Technical Fellow and Director at Microsoft Research Labs
The AI for Earth programme will offer non-governmental organisations and other groups access to AI tools and services and technical support to enable them to more efficiently and effectively tackle issues related to water, agriculture, climate change and biodiversity.
In many parts of the world, people find it difficult to access a regular supply of fresh, clean water and nutritious food. Environmental scientists have found that changes to habitats, from the development of land and climate change, are causing species to die out 100 to 1,000 times faster than the natural rate. These trends are only expected to grow more pervasive and severe.
To help address issues such as these, Microsoft announced it will invest more than $2 million into its programme in the next year. This will take the form of grants that enable access to its cloud and AI tools and platforms, training sessions on the technologies and lighthouse projects. Microsoft's chief environmental scientist, Lucas Joppa, used the London event to share more details about the programme and the tools available.
The company also announced Microsoft Research AI, a new research and incubation hub within Microsoft Research, to address the most difficult challenges in AI; an exploration of new AI principles and an Ethical Design Guide for AI, which will help Microsoft developers make AI accessible and inclusive so humans can make the most of the opportunities that AI will create; the availability of Seeing AI (above), a new iOS app that's available without additional charge to help blind and low-vision people harness the power of AI to open up the visual world, and a new partnership with machine reading expert Max Welling from the University of Amsterdam.
Microsoft also introduced a number of updates to Microsoft Cognitive Services, a collection of services that enables developers to easily add intelligent features – such as emotion and sentiment detection, vision and speech recognition, knowledge, search and language understanding – into their applications.
The updates include a new Bing Entity Search API, and the availability of Project Prague gestures SDK and Presentation Translator (below), a PowerPoint add-in that gives presenters the ability to add subtitles to their presentations across the same language or more than 60 different languages. These new offerings were shown onstage and in hands-on demos at the event, while a number of customers were also onsite to show how they are using Microsoft's AI tools and technologies to transform their businesses.
Shum said: "We are living in a golden age of AI advances… We as a technology company have the chance to channel all those innovations into tools that help people do their jobs better and more efficiently, and that solve some of the world's toughest challenges. Using AI, we are already finding better ways to do things as seemingly narrow as determining what email warrants your attention and as astonishingly complex as discovering a personalised cancer treatment.
"As technology that uses AI gets smarter, we want to ensure that we take a responsible approach to our progress – and one that will ultimately provide the most benefit to our customers and to society as a whole."
Microsoft is one of the global leaders in artificial intelligence, machine learning and cloud computing. Since the creation of the company's research labs in the early 1990s, it has pioneered innovations in computer vision, speech recognition, natural language processing and machine learning with the goal of developing systems that anticipate our needs instead of responding solely to our commands.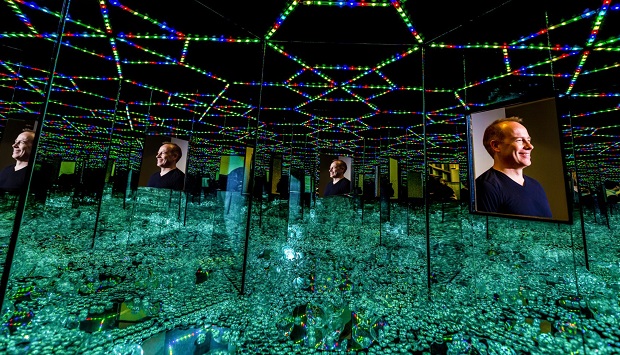 Those investments have paid off as Microsoft celebrated the 20th anniversary this week of its Cambridge research lab.
At today's event, Shum emphasised how artificial intelligence should be used for the benefit of everyone, while Horvitz discussed the societal implications of AI and what Microsoft is doing to address them, and Bishop spoke about the transformation from research to real-life, impactful AI solutions, especially in healthcare.
Williams shared her views on design principles in AI. She said that while human ingenuity amplified by intelligent technology could unlock the next big leap for humanity, this tech must be optimised for people's needs and wants. It needs to understand the emotional and intelligent needs of people to ensure they can connect with colleagues, family and friends without interference from computers; honour societal values; understand context and evolve over time. Based on AI principles that Microsoft's Chief Executive, Satya Nadella, shared publicly last year, Microsoft said it was committed to exploring a thoughtful approach to AI design principles and an Ethical Design Guide for AI product development.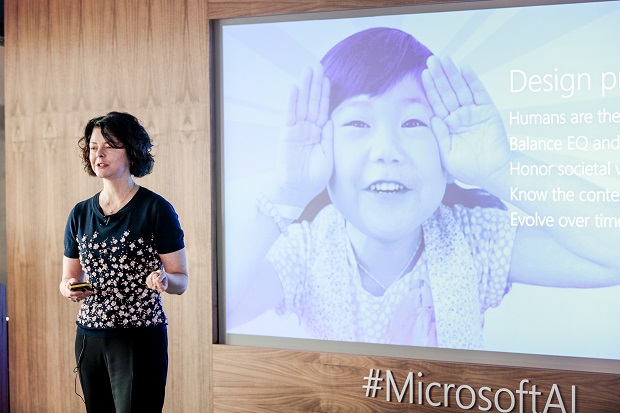 Emma Williams, General Manager AI Products Design
Guests at the London event included Prism Skylabs , a San Francisco-based company that connects existing cameras within businesses to cloud-based AI technology and machine learning tools. Its software, powered by Microsoft's Cognitive Services, unlocks valuable information from video that can be immediately understood, shared and acted upon.
"In the past, implementing machine learning and AI on your own would have required a team of PhDs; plus, there would be the cost of the server hardware and infrastructure necessary to process the vast amount of information stored in raw video from potentially hundreds or even thousands of cameras across a large organisation," said Chief Executive Steve Russell.
"We found Microsoft Cognitive Services to be the missing piece in the equation, the one that we needed to bring this solution to market and really revolutionize the way people look at video. There's no money in the world that can buy the value of having an industry leader like Microsoft as a technology partner. That's very exciting for us."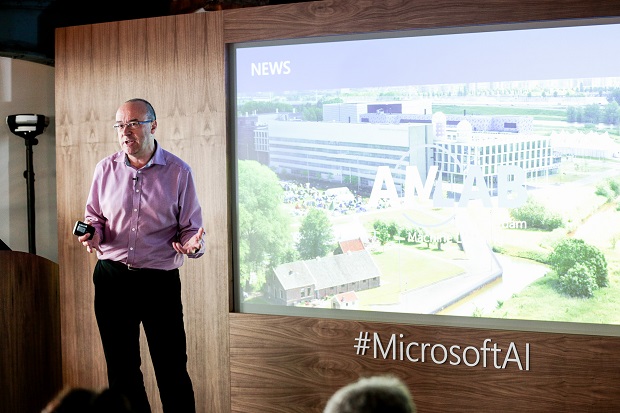 Chris Bishop, Laboratory Director, Microsoft Research Cambridge, and Technical Fellow
Also at event was technology company Sabre, which is using Microsoft's Bot Framework and Cognitive Services to create a virtual travel agent chatbot. Travellers will be able to use the bot for everyday service and support requests, such as changing an existing flight reservation, but will divert communication to a live travel agent if it is unable to fulfil a request.
"Travelers are looking to technology to bring a more seamless experience, especially when it comes to managing disruptions and on-the-go changes," Mark McSpadden, Vice-President of Emerging Technology and Products of Sabre Corporation, stated. "Together with Microsoft, we will explore the role that AI and chatbots can have in providing travellers with the autonomy they want for routine requests while helping travel suppliers provide more personal service for more complex needs."