In the wake of an increasing number of brands like Matalan and Iceland launching broadcast-style content offerings, new European has revealed that the vast majority (81%) of European retailers are anticipating a future as media companies.
The research, from Brightcove, compares the responses of 200 retailers and 2,000 consumers across the UK, France and Germany, the research reveals the extent to which retailers are experimenting with TV-like video content to engage customers, and the subsequent consumer readiness for this.
Key findings include:
• 7 in 10 (71%) retailers believe they are already on their way to becoming a media company
• 85% of retailers are already looking for ways to target consumers with content in their living rooms
• 6 in 10 (61%) retail brands are already delivering 'lean-back', TV-like content services; a further third (33%) plan to do so within the next two years
• Almost 2 in 3 (62%) European consumers would be open to doing so in future
• However, less than half (40%) have watched TV-like content from brands at this point in time

The survey highlights a clear and growing opportunity for TV-like brand content – if retailers can match consumer expectations – and provides valuable insights for those who wish to successfully navigate the transition.
The research showed that six in ten (61%) retail brands are already offering what broadcasters refer to as 'lean-back' content services – essentially 'TV-like' online video experiences – and a further third (33%) have plans to do so within the next two years.
With the media successes of brands like Red Bull ringing in their ears, retailers are fast recognising the benefits of delivering TV-like content to consumers. In fact, 100% of the retailers surveyed that are already delivering some form of lean-back content offering have seen at least one positive business outcome as a result. Top cited benefits include:

● Increased revenues (66%)
● Customers buying a wider range of products (50%)
● Increased website traffic (45%)

While the initial results are positive, some common concerns emerged as more retailers look to deliver this new kind of content service. Amongst those already offering it, these included not currently having the right in-house expertise (29%), not having enough content (28%), and being unsure of the value it would add to their business (25%). Perhaps as a result, more than half (54%) of those retailers who see a future as a media company have fears about their ability to do this successfully.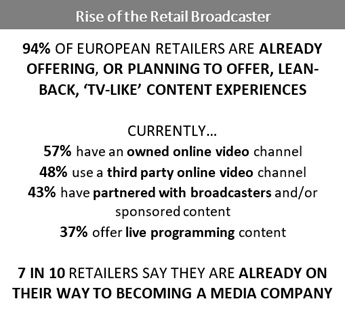 Echoing this slight apprehension, complementary research commissioned by Brightcove among 2,000 consumers in the UK, France and Germany (+18), confirmed that there is also still work to be done to truly convince consumers of retailers' place in the living room.
To date, less than half (40%) of consumers have watched TV-like content from retailers or brands – and of those 41% think the content they've watched is too 'salesy', inauthentic (30%) or poor quality (25%).

Despite their current reservations, the findings did show promise in terms of consumer appetite for branded 'lean-back' content experiences in the future. Almost two thirds (62%) said they would be open to watching TV-like content from retailers or brands, and 45% would tune in or sign up to 'lean-back' content offered by their favourite brands.

Mark Blair, VP of EMEA at Brightcove, said: "In recent years, video has established itself as an absolute must-have component in any digital marketing strategy, but as driving meaningful consumer engagement becomes ever more difficult, brands are looking for new ways to unlock additional revenue streams. And this has turned their attention to the living room.
"For retailers and brands to be truly successful in what is traditionally the broadcasters' domain, they must first understand that it's as much about the quality of the content they're producing as it is how they are delivering it. Our data revealed that 39% of the European consumers that haven't watched branded 'lean-back' content simply haven't come across it – only 29% have been served TV-like content from brands via advertising and less than a quarter (24%) as a result of direct targeting. For brands, it's about treading the fine line between being salesy and informative, entertaining and relevant, and matching content output with consumer demand. If they are able to get this balance right, a wealth of revenue and engagement opportunities will be ready and waiting for them."
Further findings from both studies are presented in Brightcove's report, The Future of Retail: Streaming into Your Living Room, available for download in full here.
Research Methodology
Vanson Bourne, the research firm that conducted the survey, interviewed 200 retail decision makers (whose organisation already creates video content in some form) in the following countries: the UK, France and Germany (100 respondents in the UK, and 50 in France and Germany). Also surveyed were 2,000 European consumers, aged 18+, in the UK, France and Germany (1,000 in the UK, and 500 in France and Germany). Fieldwork was conducted in June/July 2017.