Next year will be "a year of reckoning" for many companies, according to a new report which argues that while the overall marketplace may be healthy, the future of individual businesses is as uncertain as it has ever been.
Forrester's 2018 predictions describe the market dynamics that favour those taking aggressive action and create existential risk for those still holding on to what has worked before. 2018 will force decisive action for firms looking to digitally transform, revitalize customer experiences, and take control of their destiny.
"Unmet customer expectations are resulting in churn; the lack of digital transformation gains is translating to loss of market share; industry lines that protected some are crumbling; and longstanding, durable business models are failing," said Forrester Research in its Predictions 2018 report.
Specifically, it forecast that 30% of companies will see further declines in customer experience (CX) performance "and those declines will translate into a net loss of a point of growth".
And one fifth of CEOs will fail to act to bring about necessary digital transformation, even if that is only using their balance sheet to acquire digital assets and buy themselves some time.
Forrester also expects that 2018 will see the real economic impact of empowered machines emerging, with 10% of purchase decisions being guided by a platform's "intelligent agent".
That development in turn points to the urgent need for brands to better understand how algorithms work.
"It is one thing to be disintermediated by the platform and its associated intelligent agent; it is another to not understand or have any real influence on that relationship," Forrester noted, adding that a quarter of CMOs will fail to recruit the talent able to deliver such influence, with their brand likely to become "undifferentiated and silent in the market".
Canny CMOs will be focused on increasing spending in certain areas, it asserted, including delivering a better CX in order to drive affinity and stem churn, and synchronising loyalty programs to customer expectations.
They will also seek to understand how to decode digital platform algorithms and invest in martech to deliver individualized experiences at scale.
Consequently, it will not be only brands that face a potentially make-or-break year. Forrester predicts that adspend will be flat, leading to "a painful correction in the agency and adtech markets".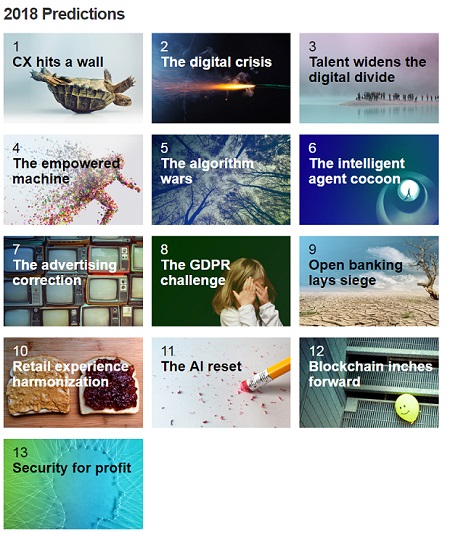 The end of the CMO role?
What's changing? Marketers' jobs security: CMOs have the shortest tenure in the C-suite and some companies like Coca-Cola are eliminating their CMO functions altogether in favour of chief growth or customers officers.
Forrester predicts in its 2018 B2C marketing predictions that more marketers will embrace an expanded role in 2018 — focused not only on customer communications but also crafting customer experiences that deliver on brand promises everywhere — for two key reasons:



Consumers demand it.Consumers already exercise their ever-increasing position of power not just when comparing product features and prices, but also when making purchase decisions based on if a brand aligns with their own personal belief systems. In 2018, the enforcement of Europe's new privacy law will extend consumers' power to their personal data as well. Brands that fail to earn their customer's trust because of poorly-executed brand experiences risk losing their precious targeting capabilities when consumers block access to their data.


Competition demands it.Not all categories felt the same pressure to pivot to customer obsession. But, recent disruptions in the retail space — think Amazon acquiring Whole Foods or IKEA buying Task Rabbit — are raising the bar for other industries like health care and telcos that have been slow to embrace better customer experiences. As consumers translate expectations across categories, we predict more categories will see first-movers emerge who fully embrace customer obsession, setting a new bar for their entire category.  Competitive chaos will ensue, as laggards scramble to catch-up mindsets, never mind processes, organization, and technology.


What can be done in 2018 to join the ranks of the progressive marketers who are going all-in on customer obsession to lead their category?


Break out of the day to day grind.Fifty-four percent of global B2C marketing decision makers say that improving the experience of their customers is a critical business priority over the next year. But, the activities marketers are most accustomed to doing — like managing day-to-day operations, driving incremental transactions, managing campaigns — don't necessarily contribute to that goal. Instead, marketers will need to expand their definition of customer journeys beyond path to purchase, make decisions about emerging technology based on their CX merits, and invest in human expertise to monitor the output of algorithms and marketing automation.


Get more from your existing resources. Marketers caught between the new and old marketing models aren't guaranteed more budget to accomplish their expanded goals. To do more with the same, or less, Forrester predicts that marketers will optimize their talent investments and embrace AI's potential to enhance existing marketing use cases like personalization and targeting. Organizations will need to revisit their marketing resource management strategy because of this – especially as it relates to collaboration and performance management – and consider emerging talent marketplaces for typically hard-to-fill digital, analytics, or developer positions.


Re-evaluate vendor relationships. 2017 marked significant convergence, consolidation, and change for martech, adtech, and agencies alike. As vendors continue adapt to marketing's evolution, marketers must take advantage of new options for marketing technology and service needs. For example, consultancies will increasingly grapple with agencies for digital transformation projects, new classes of niche providers will pop as alternatives to the broad enterprise marketing software suite offerings, and major martech vendors will straddle the line between pure technology and data provider.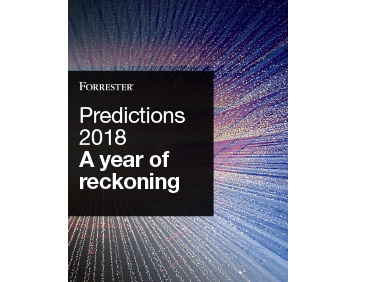 Source: Predictions 2018