Over the past few days' social media has exploded following the release of the M&S and John Lewis Christmas ads. But which ad is winning on social media so far?
Data science and media technology company, 4C Insights, unveils engagement and sentiment (definitions below) for the ads, since their release, below.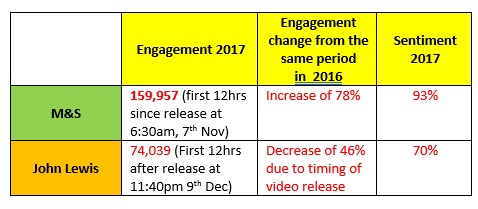 Last night at 11:40pm the John Lewis ad. Yesterday (9th) John Lewis saw 18,769 engagements on Facebook and Twitter and today (10th until 9am) John Lewis had received 50,830 engagements.
One of the main reason for John Lewis stats being lower than last year, is due to the difference in release time, last year it was at 7:40am and this year at 11:40pm!
Aaron Goldman, CMO, 4C Insights comments: "Putting aside the content, this year's John Lewis Christmas advert is a reflection of the state of advertising itself. Gone are the days when you can just run an ad on television to reach and engage your audience. Also gone are the days when you can just run static assets on social media and expect them to go viral. Today's elite advertisers are combining the best of TV and social media by creating beautifully produced video and placing it in environments where viral conversation can ensue."
"The fact that both John Lewis and Marks & Spencer released their Christmas adverts on Twitter this year show's how far forward social media has come in the marketing playbook. The second screen has officially become the first screen. As such, the most savvy marketeers are producing high-end assets for Twitter, Facebook, Instagram, and Snap. Even Pinterest and LinkedIn accept video now. Of course, social alone cannot deliver on marketing goals and television is still an important medium for driving reach and building awareness. Brands must take strategies that cut across screens to drive audience engagement."
DEFINITIONS:
Engagement: Mentions, retweets, comments and posts likes from Facebook pages and Twitter handles in Nov – Dec 2016.
Sentiment: Percent of social media interactions that were positive and not negative
TV Social Lift: By comparing each brand's social media engagements in the two-minute period after the start of a TV ad to the brand's average social media engagement rate, 4C calculates the TV Social Lift Impact. Ultimately this is a measure of how much more likely a consumer is to engage with the brand on social media after seeing its TV ad.
Source: http://www.4cinsights.com/