Reddit is testing a real-time chat function which could soon replace its standard personal message (PM) system, as the popular internet forum looks to take on social media rivals such as Facebook.
The new service, called Reddit Chat, is currently being tested among a small group of users.
While the site's developers are currently focused on one-on-one chat, they may expand to group chat in the future. Reddit hopes to have the feature out to everyone early next year.
Unlike Reddit's current private messaging system, Reddit Chat will allow individual users and groups to connect instantaneously much like the chat features on Facebook or other social networks.
In practice, it looks like Facebook's in-browser Messenger windows — tiny boxes aligned with the bottom right corner of the screen, one for each conversation you have going.
According to site administrators, the inception of chat came about when the massive April Fool's mural r/place turned into a collaborative effort on behalf of so many users: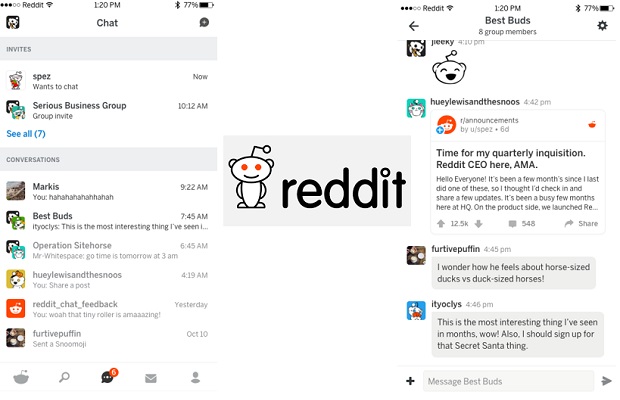 With Reddit Chat, which will eventually replace the old PM system entirely, users will be able to swap messages, links to posts, and send stickers in real time.
The feature will be limited to 1:1 conversations in the beginning, but Reddit plans to add group messaging features in the near future, and it could be a huge boon for Reddit communities who already organize on outside chat platforms like Slack and Discord.
Reddit, which is also working on a larger site-wide redesign, is aware that its most dedicated users don't take even the smallest changes lightly, which is why the rollout is happening so slowly.
The changes are an attempt to make the the self-described "front page of the Internet" more accessible to new users. The redesign website bears at least some resemblance to Facebook News Feed.