Burberry retains it's position as most popular British brand on Instagram, but British brands have a long way to go: Nike, the world's most popular brand on Instagram, has over 7 times as many followers, according to a new study.
The research, from Iconosquare's second annual British brand study reveals Britain's most popular brands on Instagram, with iconic fashion label Burberry leading the pack for the second year running.
Fashion and automotive companies dominated Iconosquare's second annual ranking of the top ten most popular British brands on Instagram: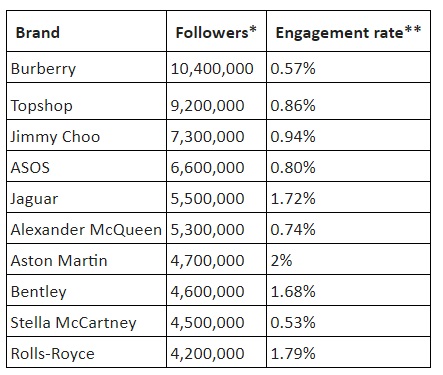 Britain's fashion powerhouses are still dwarfed by the international competition on Instagram: Nike (75.2m followers), Victoria's Secret (57.7m followers) and Chanel (25m followers) are the most popular fashion brands on Instagram globally.
BBC News, with 2.5m followers, was the most popular British media brand on Instagram, with British Vogue and Top Gear close behind with 2.3m followers each.
This Christmas season British breweries are losing out to French champagne brands on Instagram: despite the proliferation of trendy craft beers over the past few years, the only British alcohol brand to make an impact was Brewdog, with 185k followers. This following is dwarfed by champagne brands Dom Pérignon (450k followers), Moët & Chandon (396k followers) and Veuve Clicquot (380k followers).
The data comes from the Iconosquare Brand Index, a publicly-available online platform dedicated to tracking the world's most popular brands and influencers.
Romain Ouzeau, CEO of Iconosquare, comments, "A strong social media presence is an essential component of any successful marketing strategy. The top ten most popular British brands on Instagram have all been able to successfully promote aspirational lifestyles to a wide audience of people and will reap rewards this holiday season.
Burberry should be especially pleased with their efforts as they have topped our British brands on Instagram study for the second year running and boosted their follower count by over 2 million over 12 months."

*Data as of 20 November 2017
**Engagement rate is defined as number of likes and comments divided by number of followers at the time of the post

Source: www.iconosquare.com