Video advertising and paid-for content are set to fuel digital publishing as content monetisation strategy adapts to changing audience needs, according to new research.
Findings from the latest Digital Publishers Revenue Index (DPRI), a quarterly report on UK publishing from the Association for Online Publishing (AOP) and Deloitte, highlight strong video, subscription and sponsorship revenue growth; indicating a more diverse path for sustainably supporting premium content.

According to the DPRI report, Q2 2017 was a tough quarter (-6.4% vs Q2 2016) for premium publishers – reflecting the picture in the wider advertising sector. A key factor in this performance was the fact that only one third (32%) of publishers reported growth in Q2 2017.

Despite the conditions in Q2, across the 12 months to June 2017 the DPRI grew by 1.4%. This annual growth was driven by healthy growth in sponsorship (+19%), subscriptions (+15%), and video (+75%).

Sponsorship revenue actually declined year-on-year on desktop but grew significantly on mobile devices where screen size lends itself to this creative format and approach.

With revenue from forward-focused formats such as video and mobile rising, in addition to increasing subscription-based funding, it seems a breadth of revenue channels will be key for publishers to achieve sustainable monetisation.

Richard Reeves, Managing Director, AOP, commented: "This research has put a spotlight on the way publishers are adapting their growth priorities to keep pace with industry innovation. Content producers are retaining a focus on key advertising areas, such as mobile and video, but also expanding their revenue generation strategy by developing areas such as sponsorship and subscriptions. This demonstrates that despite a challenging quarter which has seen AOP board member sentiment about future performance drop by 32% in these three months — publishers have the tenacity and foresight to ensure continued success."
Dan Ison, lead partner for media and entertainment at Deloitte, commented: "Despite macroeconomic uncertainty leading to a fall in confidence, the UK's publishers should be pleased with their ability to adapt to changing consumer behaviour. Smartphone digital advertising alone has seen quarterly revenue growth increase by 42% since Q2 2016, illustrating that publishers are successfully monetising from smaller screens. This change in strategic focus is important, particularly when considering that 85% of 16-75 year-olds* – around 41 million people in the UK – now own or have access to a smartphone."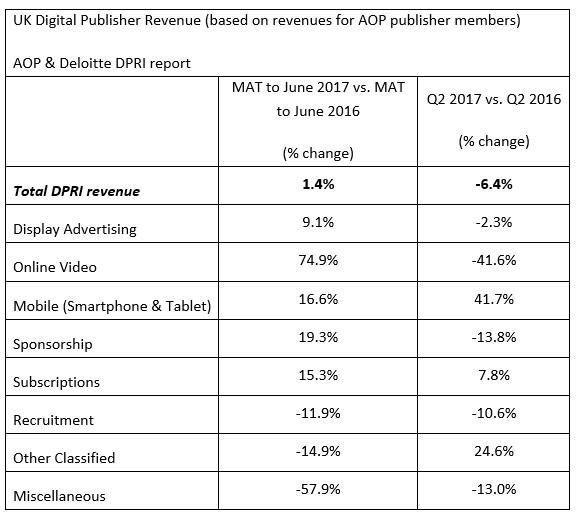 *According to Deloitte's Mobile Consumer Survey 2017

About the DPRI Report
The Q2 2017 DPRI report – conducted by AOP and Deloitte – is based on a survey of 19 UK digital publishers comprising 14 B2C publishers and five B2B publishers. The aim of the report is to provide an overview of revenue levels across multiple channels and platforms – as well as insight into publisher sentiment – and to benchmark these findings against previous quarters. The information contained in this press release is correct at the time of going to press.
Source: www.ukaop.org