Ahead of the global premier of The Last Jedi today, it appears Disney's focus on female heroines (Rey and Jyn Erso) has paid off - research conducted among 89,029 internet users reveals 37% of Star Wars fans are now female.
Disney's formula has successfully engaged both male and female audiences ahead of the eighth Star Wars film's public release on December 15th.
The study, conducted by GlobalWebIndex among 89,029 internet users, across 40 markets, reveals that the diverse Star Wars audience presents new creative opportunities for brands, but marketers must tread carefully in the wake of EA's Battlefront 2 debacle.
With EA's Battlefront game debacle raging on, it's interesting to note;
· 91% of Star Wars fans use a device to play games (35% more likely than average)
· 1 in 4 Star Wars fans have played a Star Wars game
· 18% use a PlayStation 4 to play games vs. 10% who use an Xbox One
While the core audience is still weighted towards younger men, 37% of internet users who are Star Wars fans are now female and almost half of the international audience is aged between 35-64. Equally, the split between parents (51%) and those without children is almost an even split, highlighting the film successfully engages with both audiences.
Instead, film studios should keep in mind that Star Wars fans are vocal critics, especially in relation to film. Compared to the average internet user, Star Wars fans are 37% more likely to have posted online about films in the past month. 58% regularly inform friends and family about new products and services.
Jason Mander, Chief Research Officer at GlobalWebIndex comments: "Disney has managed not only to realise the opportunity presented in activating new audiences and in creating stories based on these insights so that it really resonates. As we approach the premiere of the new film, we hope to see the balance of audiences become even more level across markets, and encourage brands to embrace the creative opportunity this presents."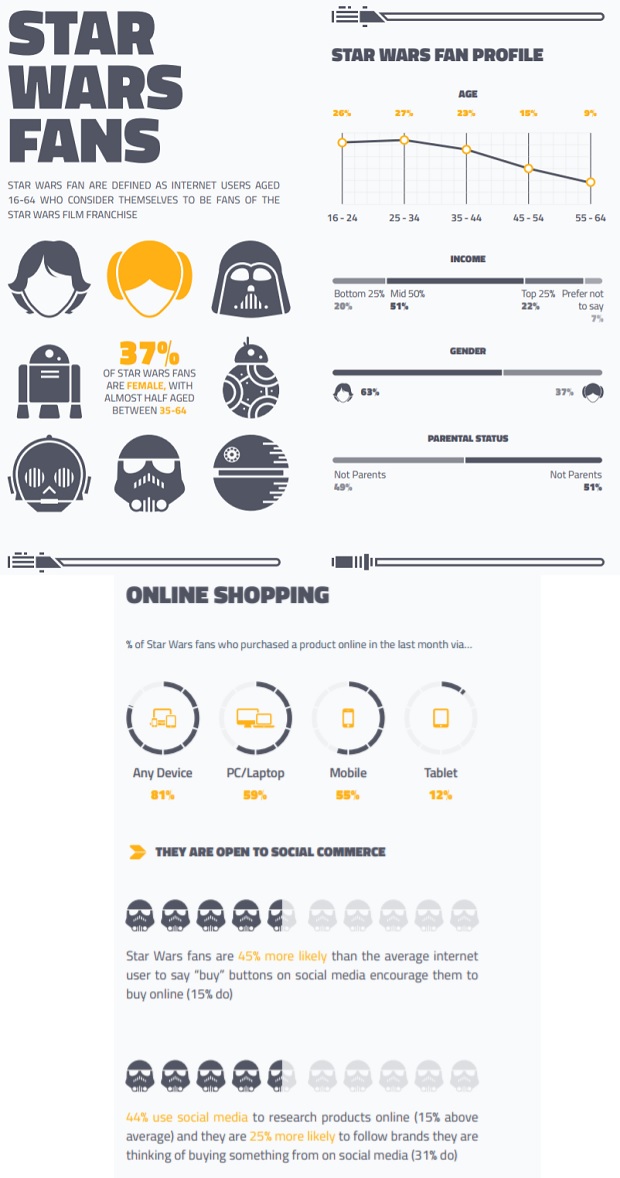 Battlefront 2 fiasco
With their tendency to share their experiences with others, EA's recent scandal around the Battlefront 2 Star Wars game may have left a sour taste among many franchise fans. 91% of whom say they use at least one device to play video games.
With most of the uproar around EA's latest Star Wars game, which is not only expensive to buy upfront but then relies on players to spend money to win in-game bonuses, it's interesting to note that 23% of the Star Wars gaming community have purchased a game add-on in the past month. They are also 74% more likely to say exclusive content will increase their interest in buying a product.
Jason concludes: "It's a hard balance to get right. There's a clear preference towards exclusive content that offers fans a chance to prove their dedication. It's therefore no surprise that more than two thirds of Star Wars fans say they're likely to buy a product simply for the experience of being part of the community built around it. Marketers must take the time to really understand this core audience and never take its loyalty for granted."

Methodology
All figures are taken from a Q2 2017 wave of online research with a global sample size of 89,029 across 40 markets (with 72,529 surveys completed on PC/laptop/tablet and 16,500 surveys completed on mobile). Among this cohort, there were 11,410 Star Wars Film Fans* and 2,898 Star Wars Gaming Franchise Fans**. Indexes are against the average internet user aged 16-64.
*defined as those who consider themselves to be a fan of the Star Wars film franchise
**defined as those who have played the Star Wars gaming franchise in the past 12 months