Snapchat users can now share Stories outside the app to Facebook and Twitter in an effort to spark growth on the social media app.
Users will be able to share Stories to their linked social media accounts or through text or email with a link to a webpage where people who don't have the app can view the message.
Starting this week, the feature will be available to users who have already received the redesigned Snapchat app. It will roll out to other users over the next few weeks.
By pressing and holding down on certain 'tiles' in the Discover part of Snapchat, Snapchat users will be able to share Official Stories, unpartnered Our Stories, and Search Stories.
As an example, UK TV presenter Phillip Schofield was having some problems with his alarm over Christmas and posted Snaps to his Story.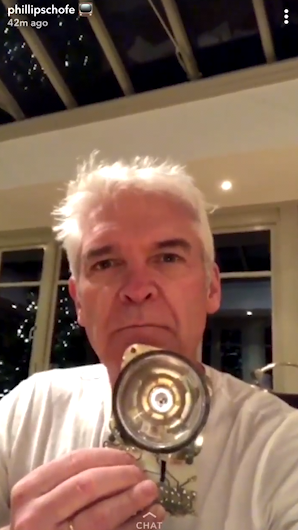 If you watched this on Snapchat, and then wanted to share it with your Mum and Brother who were not on Snapchat you couldn't. Now you can by sending them a link to view on Snapchat.com or by sharing this Story on another platform.
Another example could be a reporter watches an Our Story on Snapchat in Discover about the fires in California that we have curated from Snaps sent to Our Story. The journalist could then choose to link to this Our Story to further inform their reporting and give viewers perspectives their own cameras can't get access to.
To share a Story:
• Press and hold on the Story tile in Discover to bring up a mini-profile
• Select "Share Story" that appears alongside other options like "Subscribe"
• Choose how you'd like to share the Story outside of Snapchat - by text, email, or by posting to other platforms. You can also copy the link.
• Recipients of this link can then view the Story you shared through a new Story player on Snapchat.com
View a video of how it works below:
Official Stories help Snapchatters discover and identify interesting Stories more easily. If a Snapchatter has an Official Story, their name will appear under an Official Stories header when you search for them in the Add Friends screen. An emoji will also appear next to their name, so you know they're the real deal 🍑. Official Stories are currently being rolled out to a small group of Snapchatters. Over time, Official Stories may become more widely available. Official Stories will be available outside of Snapchat for 24 hours. SOme notable UK Official Stories include Phillipp Schofield, Dua Lipa, Chris Froome, Stormzy, Anthony Joshua, Joe WIcks, Millie Bobby Brown, Rita Ora and Niall Horan.
Our Stories make you feel like you're at an event, festival or celebration anywhere in the world 🌏 and are hand-curated or automatically created by Team Snapchat. You can find Our Stories by swiping left to the Discover screen and tapping on the Our Story you'd like to watch, or by using search. Our Stories will be available outside of Snapchat for 30 days.
Search Stories are another way to discover user generated Snaps on Snapchat. Stories that appear in Search typically appear in the order of what's relevant to you, trending, or happening nearby. You can also search keywords in Search to see Snaps from the community. Search Stories are algorithmically generated so you can find Stories on just about anything on Snapchat! Stories will be available outside of Snapchat for 30 days.
SNAPCHAT STATS - GLOBAL and UK
• 178 million people use Snapchat daily, including over 57 million in Europe, and over 10m in the UK
• Over 25% of all smartphone users in the US, UK, and France now use Snapchat every day.
• Snapchat reaches over 70 percent of the 13 to 34 year-old population in the US, France, UK, and Australia
• Over 77% of Snapchatters in the UK are aged 18 or over. (Snap Inc. June 1
• Independent research from App Annie found millions of Snapchatters are exclusive to Snapchat and cannot be reached by other apps. On any given day 31% of Snapchat's daily users in the UK cannot be reached by Instagram, 49% by Facebook, 52% by YouTube, 80% by Messenger and 93% by Twitter. (App Annie, Nov 17)
• Bitmoji was the most downloaded app on the App Store in 2017. Snapchat was second.
• Daily users visit Snapchat 25 times a day and create over 20 Snaps a day.
• Over 3.5 billion Snaps are created every day on Snapchat (up from 2.5bn). This equates to well over 1 trillion Snaps per year.
• Snapchat has likely become the world's most-used camera. With more than 3.5 billion Snaps created every day, this is now greater than the number of photographs taken every day this year across all phones, tablets, and digital cameras combined. (Infotrends Nov 17)
• Snapchatters spend over 30 minutes on Snapchat every day (up from 25 minutes in Q2).
• Snapchatters under 25 now spend 40 minutes a day on Snapchat.
• Over ten billion videos are watched on Snapchat every day.
• Over 60% of Daily Users create Snaps with the Camera every day and use Snapchat's Creative Tools to enhance over 60% of the Snaps they send.
• Over one in three Daily Active Users play with Lenses everyday, spending on average over three minutes a day doing so.
(Q3 2017, average for quarter)