Access to fast broadband and a good mobile signal is now a major sticking point for most home buyers, according to new research.
The study, commissioned by broadband comparison website Broadband Genie found thatj just 16% said they purchase a property that doesn't have access to fast broadband, while just 19% said they would buy a home that doesn't have a good mobile reception.
Access to fast broadband surprisingly featured above many important factors for potential home buyers. 14% said a property's price was less important to them than fast broadband, while 19% said proximity to their work wasn't as important as modern broadband internet access.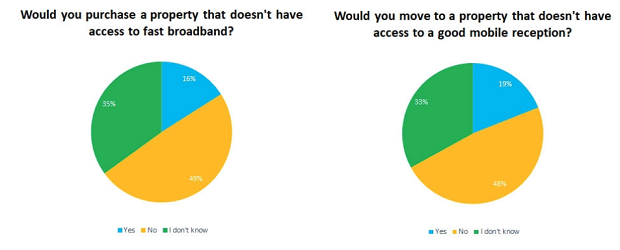 Despite the importance of good broadband, over half (51%) said they were unsure how to check what was available at a property before they moved.
Rob Hilborn, Head of Strategy at Broadband Genie, said: "We're at the point where most will no longer consider a property with slow broadband and weak mobile signal. The fact that so many say they put fast broadband above a property's price just shows its importance.
"While the majority are now odds on to end up in a fibre enabled property, you're still taking a big risk by not checking services before commiting to a move. It would be a disaster to move only to find out you're restricted on what they can do due to slow speeds.
"It would be nice to see more accurate speed information being made accessible to home movers so they know exactly what's available before they move. The new ASA advertising rules that come into play in May will somewhat help in providing clearer speed information, but more still needs to be done. For consumers, we recommend at the very least you do a quick check online to find out if your next property has access to fibre."