Last weekend's SuperBowl attracted the second highest in-game ad expenditure in history, hitting $414 million during the 49 minutes, 35 second of commercial running time, according to new research.
Kantar Media's preliminary estimate of in-game ad expenditures for Super Bowl LII, subject to revision, is $414 million. This would be the second largest amount in history besides last year's game, which was the first to run into overtime.
Key findings:
• There was a total of 49 minutes, 35 seconds of commercial time from paying sponsors, the NFL and NBC Universal networks. This matches the third highest total on record. Ads accounted for 22% of the total broadcast.
• Anheuser-Busch InBev and Fiat Chrysler Automotive were the top advertisers in the game, each with 4:00 mm:ss of ad time. They were followed by Toyota Motor at 3:00 mm:ss and Amazon.com at 2:30 mm:ss.
• Auto manufacturers were the lead category during the game, accounting for 11 spots and 9:00 mm:ss of commercial time.
• There were only four first-time marketers during the game, the fewest in the past decade and less than one-half the number in each of the four preceding Super Bowl games.
Over $400 Million of Ad Revenue
Final confirmation of ad pricing and revenue figures for Super Bowl LII are not yet available, but Kantar Media's preliminary and conservative estimate of total ad spending from in-game spots is $414 million. This is the second consecutive year the figure has exceeded $400 million.
When expenditures from pre-game and post-game programming are tabulated and included, the total revenue for the event will easily surpass $500 million.

More Than 49 Minutes of Ad Time
Measured from the opening kickoff to the final whistle, Super Bowl LII contained 49 minutes, 35 seconds (49:35 mm:ss) of national commercials, tied for the third largest amount in history. (2013 holds the record at 51:40 mm:ss, due to additional ads run during a power outage; the overtime in 2017 enabled Fox to run four additional ads.) The game itself lasted 3 hours, 46 minutes (including halftime) which means advertising accounted for 22 percent of the broadcast. By comparison the length of a typical NFL regular season telecast is 187 minutes with commercials accounting for 42 minutes (22 percent) of the program.
Setting aside unpaid promotional spots from NBC Universal and the NFL, the game featured 40:10 minutes of national air time from paying sponsors. It was the third highest amount in Super Bowl history.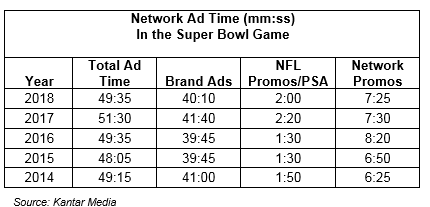 Top Spenders
Excluding the promotional messages aired by NBC Universal and the NFL, there were a total of 62 in-game spots aired by 45 different advertisers from 37 unique parent company owners. The difference in counts between advertisers and parent owners is due to some parents showing commercials from more than one of the advertisers they own. (Example: Pepsico accounted for three advertisers in the game – Doritos, Mountain Dew and Pepsi)
Anheuser-Busch InBev and Fiat Chrysler Automotive were the top-spending parent companies in the game. Each purchased 4:00 mm:ss of air time. Toyota Motor was in third place with an estimated 3:00 mm:ss of commercials followed by Amazon.com at 2:30 mm:ss.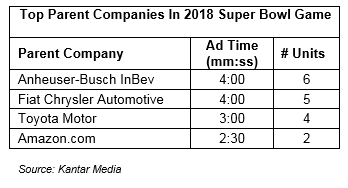 Rookie Advertisers in the Super Bowl
From 2008-2017 the Super Bowl attracted an average of eight first-time advertisers per year, many of them relatively small companies that viewed the game as a platform to increase brand awareness. The rookie turnout at Super Bowl LII was considerably smaller with just four players, the lowest number since Kantar Media started tracking this stat in 2007.



The 2018 freshman roster included Australia Tourism, Blacture.com, Giant Bomb (a mobile game publisher) and Monster (audio headphones).
More Than 40 Percent of 2017 Sponsors Did Not Return in 2018
Of the 49 parent companies that pitched messages in the 2017 game, 22 were absent this year for an attrition rate of 45%. Coincidentally, the average attrition rate for the previous ten Super Bowls (2008-2017) was also 45%
Among the 11 companies that were first-time participants in 2017, ten did not return this year – a dropout rate of 91%. The lone holdover from this group was Turkish Airlines.
Longer Length Commercials – A Resurgence
After two relatively slack years, long-form ads bounced back in Super Bowl LII. Of the 62 in-game commercials from paying sponsors, 19 were one minute or longer, the most since 2015.

Auto manufacturers were again the most frequent users of long-length spots and accounted for seven of the 19 commercials (37%), a similar proportion to the previous two years.

Top Categories
For the ninth consecutive year auto manufacturers had the biggest presence of all ad categories in the game, accounting for 11 spots and 9:00 mm:ss of ad time. Beer advertising, all from Anheuser-Busch InBev, was the second-largest category with six units and 4:00 mm:ss of messages. Motion pictures and telecom were close behind. These four categories represented 40% of the total commercial time from paying advertisers.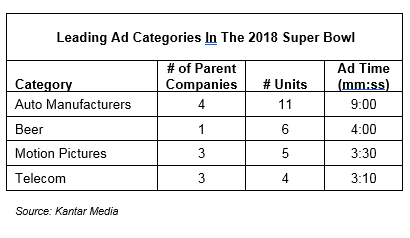 Auto, beer, movies and telecom are perennial top categories and Super Bowl viewers are accustomed to seeing lots of competing ads from them. But other categories also had rival brands battling it out during the commercial breaks in Super Bowl LII. Some notable examples:
• Streaming Video Services – Amazon Prime, Hulu, Netflix
• Soft Drinks – Coke, Pepsi, Mountain Dew
• Laundry Detergents – Tide, Persil
• Web Site Design – Squarespace, Wix
Factory Auto Ads: A Closer Look
Automakers had both a larger and smaller footprint compared to recent years, depending on the metric. Only six different nameplates were promoted, the fewest since 2010. But the number of spots (11) and the total amount of ad time (9:00 mm:ss) were both higher than the 2017 game.
The Alfa Romeo, Audi, Buick, Honda and Mercedes nameplates did not return from their 2017 appearances. Offsetting these departures were the addition of Hyundai, Jeep, Ram and Toyota.
Since 2011, auto category ad time has never dipped below 7:00 mm:ss. As a comparison, from 2001 through 2010 automakers averaged 3:45 mm:ss of in-game ad time per year.