Snapchat's UK advertising revenue is set to overtake Twitter's UK revenue in 2019, and revenue from consumer magazine and cinema advertising within two years, according to new research.
The data, from eMarketer, indicates that the UK currently accounts for about 10% of Snapchat's global ad revenues.
By 2020, Snapchat will make about £310m, making it larger than the roughly £300m digital and print ad spend on consumer magazines and a third bigger than the £200m cinema advertising market.
"Snapchat continues to pull in users and, by extension, ad revenues," said Bill Fisher, UK senior analyst at eMarketer. "An almost doubling of revenues in 2018 is a great result."
The figures from eMarketer also show that the duopoly of Facebook and Google will continue to increase their stranglehold on the UK digital ad market. This year they will account for 65.8% of the market, and it is forecast that by 2020 this will have grown to 71.6%.
In its first-ever ad revenue forecast for Snapchat, eMarketer expects the mobile social network to generate almost £105 million ($135 million) in UK revenues this year—almost double the amount from the prior year.
In 2015, Snapchat derived 95.9% of its global ad revenues from the US. This year, that proportion will fall to 75.8%, as the platform continues to add users outside its core geography. The UK will account for 10% of Snap's worldwide revenues in 2018.
While Snapchat has seen—and will continue to see—explosive growth in both users and ad revenues, it will make up just less than 1% of UK digital ad spend this year. By comparison, Facebook (Snap's rival) will grab more than a fifth of UK ad spend. A fairer comparison would be with Instagram, but even here Snapchat's revenues won't measure up, with the Facebook-owned platform expected to pull in 5% of all digital ad spend.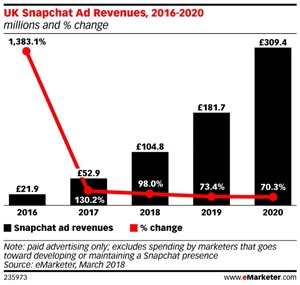 Combined, Google and Facebook will dominate the UK digital market for the foreseeable future; this year, they will take more than 60% of all UK digital ad revenues.

"Snapchat continues to pull in users and, by extension, ad revenues," said Bill Fisher, eMarketer's UK senior analyst. "An almost doubling of revenues in 2018 is a great result. But while the user base continues to be dominated by younger age groups, that revenue potential will remain somewhat restricted. And with the financial muscle of Facebook behind close-competitor Instagram, Snap's going to have to work ever harder for those ad dollars."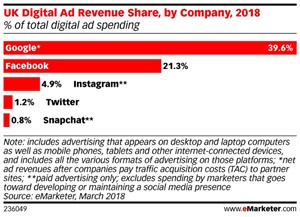 Methodology
eMarketer's forecasts and estimates are based on an analysis of quantitative and qualitative data from research firms, government agencies, media firms and public companies, plus interviews with top executives at publishers, ad buyers and agencies. Data is weighted based on methodology and soundness. Each eMarketer forecast fits within the larger matrix of all its forecasts, with the same assumptions and general framework used to project figures in a wide variety of areas. Regular re-evaluation of available data means the forecasts reflect the latest business developments, technology trends and economic changes.