The percentage of the US population over 12 Americans aged 12 and older using Facebook has dropped 5 percentage points to 62% this year, marking the first decline in a decade, according to new research.
The data, from Edison Research and Triton Digital, found that usage is either down or flat in each age group, gender and race/ethnicity across the US.
Despite these declines Facebook remains by far the most-used social media service. A number of other social media services, however, continued to show robust growth, making this diminishment particular to Facebook.

The research also asked people what social media site or service people use the most, and again, Facebook declined against other platforms. See the research here.
The findings come after a report from Forrester Research just a couple of months ago that suggested that teen usage of Facebook in the US may have peaked.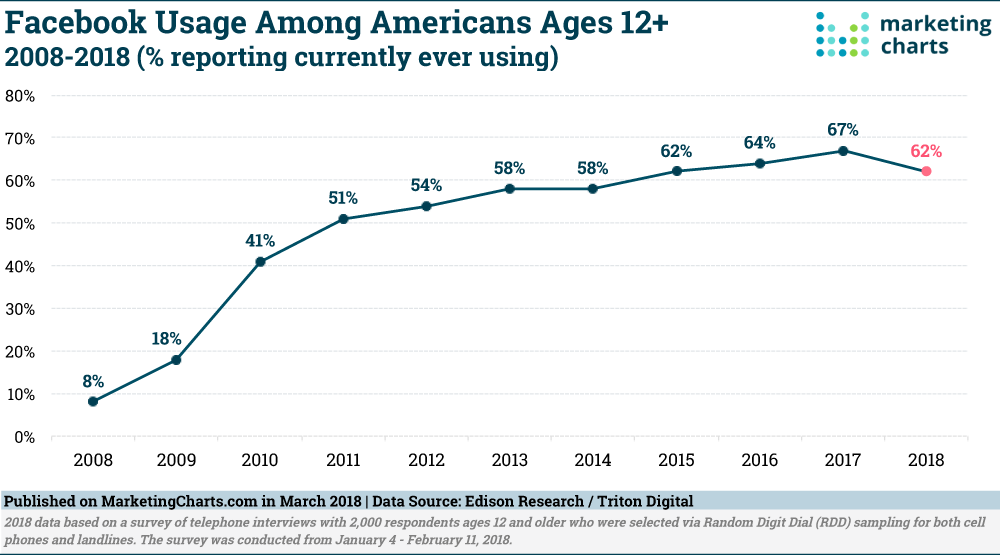 Methodology
A total of 2,000 persons were interviewed to explore Americans' use of digital platforms and new media. From January 4, 2018 to February 11, 2018, telephone interviews were conducted with respondents age 12 and older who were selected via Random Digit Dial (RDD) sampling for both cell phones and landlines.