From balls to bikes, advertisers have a lucrative opportunity to engage with travellers during this year's summer of sport – kicked off by the World Cup this month.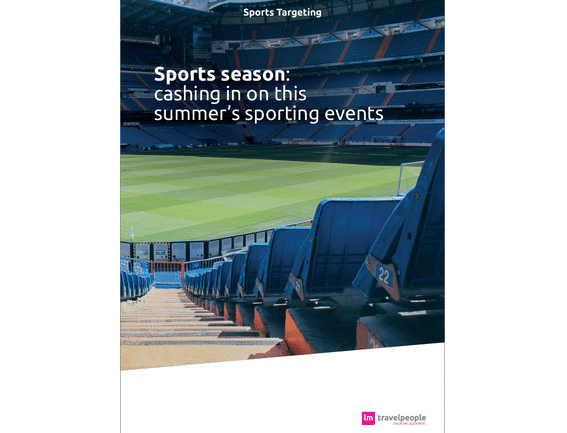 New data from Travel People, lastminute.com group's media unit, reveals how major sporting events can spark travel inspiration, with a knock on effect that benefits brands selling everything from footballs to flip flops.
Searches for travel deals to London on lastminute.com rose by a fifth (19%) on the first day of last year's Wimbledon tournament, with the promise of Pimms, strawberries and all things British luring European sports fans to book their next adventure.
And interest in travelling to Nice, France, rose by a huge 112% on the day of the Monaco Grand Prix – presenting the perfect opportunity for brands to engage these travellers with helpful and inspiring ads for everything they need to enjoy their trip.
Even South Korea has benefited from sports tourism, with media interest prior to this year's Winter Olympics prompting a 116% increase in searches to travel to the beautiful sites of Seoul three days before the games began, compared to a week before.
Alessandra Di Lorenzo, Chief Commercial Officer - Media & Partnerships at lastminute.com group, comments: "From the Tour de France to Wimbledon and the World Cup, this summer presents a huge opportunity for brands to engage with sports-inspired travellers – whether they're taking part, spectating or simply checking out the latest location seen on their TV. And the opportunity goes beyond travel itself; when people make travel bookings, it has a knock-on effect on purchases in other categories too - for everything from sports insurance through to equipment and accessories for their trip. By effectively layering data and targeting by passion as well as demographics, brands can tap into the many other purchase points before, during and after travel."
With sports season almost underway, advertisers are encouraged to use Travel People's sports targeting tools, which allow brands to target and engage nearly 13 million travellers who possess a love for sports and travel on our extended travel network, right across Europe. For more information, read The Travel People's white paper on sports targeting here.