Apple takes on Netflix and Amazon with blockbuster streaming service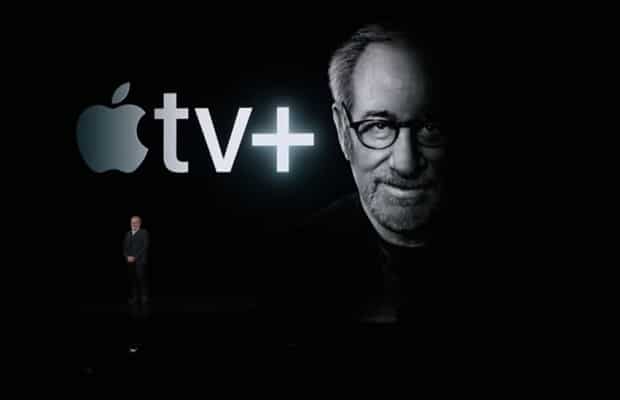 Apple has unveiled its decade-long project to build a TV subscription service, called Apple TV +, that will rival the likes of Netflix and Amazon Prime.
Launching in May this year, the move is part of a new billion-dollar effort to expand Apple's "services" division of streaming apps and subscription products as iPhone sales slow down.
A host of Hollywood stars, including Oprah Winfrey, Jennifer Aniston and Steven Spielberg, joined Apple chief executive Tim Cook to announce the tech giant's new video streaming service.
Apple TV + will feature original content to rival the likes of the high-budget productions found exclusively on Netflix and Amazon Prime.

Apple is expected to charge for its original TV streaming app, although it is not clear how much that will cost yet.
During the announcement, the technology giant said it will be available from May 2019. The feature will appear on smartphones and iPads and is expected to be available on third-party smart TVs in the same way that users can stream Netflix. It is still not clear if it will be launched on non-iOS devices.
According to a report in the Wall Street Journal, Apple will offer "one click" subscriptions to HBO, Showtime and Starz through its app, costing $9.99 a-piece, but Apple has yet to confirm pricing plans. Apple is also said to be in talks to include its app on Roku streaming devices.
Speaking at the launch in California, Cook said Apple had partnered with "creative visionaries" for the new service, which saw Apple shares fall by almost 2% and Netflix shares rise as it was unveiled on Monday.
Other announcements
Among the latest announcements were an Apple credit card called Apple Card, Apple News + featuring magazines, and a gaming subscription service called Apple Arcade.
As well as its new TV offering, Apple has revealed a subscription service for news and magazines that will see iPhone and iPad users paying to access online versions of premium news apps.
The premium news app will cost users $9.99 per month and include access to 300 magazines and content from newspapers. It is available now from the US and Canada, and is expected to launch in the UK this Autumn.
Apple's gaming subscription service focuses on bundled games for iPhones and iPads that can be accessed for a monthly fee.
The service, which will allow users to download games on any device, will be available in over 150 different countries in Autumn. Developer partners include Konami, Disney and Lego.
The main event
Leaving the hotly-anticipated streaming service to the end of the event, the audience was told to expect "a new service dedicated to the best stories ever told".
Spielberg appeared on stage and talked about sharing a "whole new batch of amazing stories" with Apple users.
"I'm so grateful to be here today," said the Jurassic Park director. "This is my first time at Apple, the place where imagination and technology join forces."
After two years under wraps, the tech giant launched its new streaming service Apple TV to rival Netflix and Amazon on Monday with a trailer of all the shows they'll be showcasing. Jason plays a blind warrior in the new futuristic drama which is set 'when the human race has lost the sense of sight, and society has had to find new ways to interact, to build, to hunt, to survive.'
Elsewhere in the Apple trailer, we also got a sneaky glimpse at The Morning Show, Home Before Dark, Dickinson, Truth Be Told and Servant, with the new streaming giant announcing: 'Introducing a new home for the world's most creative storytellers.'
"Users already overwhelmed"
Dallas Lawrence, CBO for ad exchange OpenX, said: "One billion dollars in content alone will not guarantee success in the crowded OTT market. Apple must consider that in the OTT world, original content is not necessarily king. According to a soon-to-be-released study commissioned by OpenX of over 2,000 people that use at least one OTT service, not a single Netflix, Hulu or Amazon Prime original series made it in the list of the top 10 favourite shows. Content is important but it will not differentiate enough.
"The new research also shows that OTT users already feel overwhelmed by their content choices today meaning a new market entrant needs to do more than just offer more content, they need to disrupt the model and provide something better for users. OTT users are also device agnostic using on average of three different devices to stream their content. They do not want to be tied to one proprietary device or platform.
"One area where Apple will find receptivity in the market is around what appears to be an effort to build a new 'skinny bundle' model for content. Users do not want 200 channels. The 15 /10 rule applies to most OTT users: They want a maximum of 15 channels and they are willing to pay around $10 per channel for the ability to access that content when and where they want it. If Apple can crack the skinny bundle code and deliver a unique and holistic OTT ecosystem for consumers they could very well become the primary disruptive force in streaming video".
Tying in with the Apple 'experience'
Luke Bozeat, COO at MediaCom UK, said: "Rumours of Apple's new streaming service come hot on the heels of other huge companies announcing similar platforms in a battle for more eyeballs, for longer. In short, it's not just Netflix that Apple is competing against; ITV and BBC invested in BritBox last month, Snap Originals introduced TV-like programming on mobile and Disney+ will capitalise on a traditionally younger audience. As Apple looks to pour money in the video streaming market – and is in a strong position to do so – it will have to invest in original content that sets it apart from the plethora of choice available from both current and upcoming platforms.
"However, original content might not be enough of a differentiator to persuade consumers to sign up. We might yet see Apple move down an Amazon Prime-esque route, offering customers exclusive discounts on its hardware and software in a bid to win over subscribers, and a new way to enjoy the Apple "experience". With so much investment from a company not known for content creation, this is a big risk, and one that will take time to understand the audience's needs and wants. Having a huge user base already helps, but a strategy based on content partnerships with Hollywood directors and primetime platforms like HBO might yet be another long-term boon for the company. In a battle to create and host the best TV shows and films in town – and with so much content to choose from – the consumer may prove to be the ultimate winner here."
The OTT Market
Tpo provide content to the Apple TV+ launch, eMarketer has provided the latest estimates on US streaming TV/video, mobile payments, news app users, and digital gaming.
Ott/connected tv users
In 2019, 204.9 million people in the US will watch OTT video via a streaming app/service, such as YouTube, Netflix, or Amazon.
This year, 190.0 million people in the US will watch video via a connected smart TV or device, such as a Roku, Amazon Fire Stick, or Apple TV.
The number of Americans watching digital/streaming video via a smart TV will grow 9% to 103.7 million people this year.
Mobile payments
In the US this year, 61.6 million people 14 and over will use a mobile payment app, up 12% over last year. That equates to 27.4% of smartphone users.
Apple Pay will have 24.0 million users this year in the US, up just over 9% from last year. That equates to 38.9% of mobile payment users, the second-highest penetration after the Starbucks app with 41.7%.
News app users
This year, 99.1 million US smartphone users will use a news app at least once a month, up 5.6% over last year. That equates to 43.2% of smartphone app users.
Online gaming
In 2019, 165.5 million US internet users will play an online video game at least once a month, up nearly 3% over last year. That equates to 58.3% of internet users and 50.1% of the US population.
The number of smartphone gamers in the US will grow 3.5% this year to reach 145.1 million people. That equates to 62.3% of smartphone users.