Bidstack sponsors Christian Fuchs' esports FIFA team NFG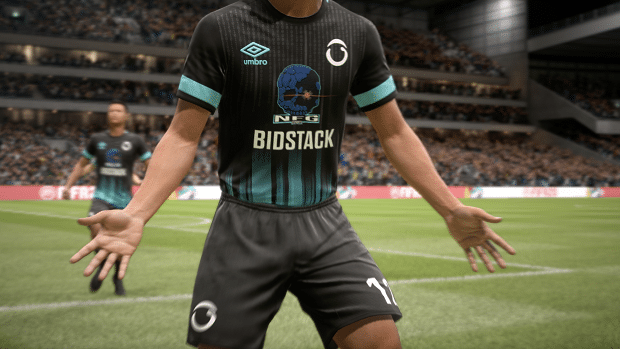 Bidstack is sponsoring Leicester City defender Christian Fuchs' esports team, NFG, for the FIFA 20 season.
The deal will run for the lifespan of the game and the new branded kits will be worn by the team's players in-game, when they stream gameplay online and at tournaments, as well as during official events. Players and fans will also be able to unlock a copy of the kit for their own FIFA Ultimate Team (FUT) squads.
It is the first time Premier League footballer Christian Fuchs' esports team has had a personalised kit in-game and the sponsorship is part of a wider partnership with Bidstack who run unintrusive ads in games such as Football Manager, DiRT Rally 2.0 and GRID.
A number of new kits have been revealed for FIFA Ultimate Team via EA's official channels and the move represents a positive step forward for esports teams in terms of revenue generation. Sponsorship of esports teams in this way reflects a growing maturity in the esports arena as brands begin to fully understand the reach, flexibility and value of such partnerships.
James Draper, CEO of Bidstack said: "We're really excited to be featuring in FIFA 20 and demonstrating to brands and advertisers the power and reach that in-game advertising offers. It's a pleasure to be working with EA, Christian and his growing, grassroots team. The sponsorship demonstrates in a unique way that brands can reach the gaming audience both online and offline by advertising in-game.
"Partnerships like this represent progress, with esports sponsorships beginning to reflect the deals football clubs routinely secure in real life. We'd like to wish Christian and his team all the best for the season ahead and look forward to seeing the Bidstack sponsored kit in action through NFG's channels and at FUT events."
Christian Fuchs, Leicester City's Premier League-winning defender and the Founder of No Fuchs Given (NFG) added: "We are extremely proud of our new FIFA kit and are delighted to be working again with Bidstack who really understand the value of reaching the gaming and esports community in this new way.
"This is the first time we've had an in-game kit of our own and we'd like to place our thanks to EA on record for making this happen. We love the design and can't wait to see the team perform in it throughout another successful season."