Black Friday: What do consumers really want? [INFOGRAPHIC]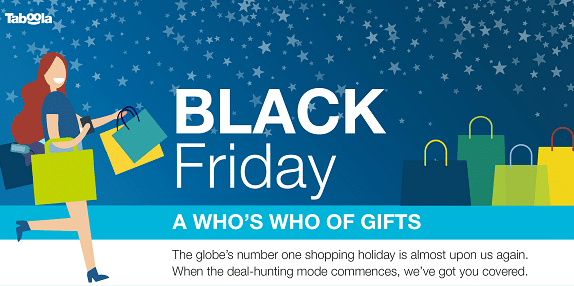 Technology-related items are the most popular products for customers looking for Black Friday deals worldwide, but ad copy and images are key to getting conversions, according to new research.
With Black Friday just a few short weeks away, deal-hunters everywhere are already considering ways to capitalise on the world's number one shopping day.
However, with today's consumers turning ever-more to the digital space to shop, it's important retailers are able to stand out by knowing exactly what it is their consumers want.
Taboola has therefore analysed data and trends from 1st September 2018 to 1st September 2019 to discover the products and gifts consumers are most keen to get their hands on.
Data was collected and analysed from sites where Taboola's products are installed and user permission is granted. Insights includes internet user activity from:
+400,000 articles
+460 million unique users
+1.6 Billion pageviews
+2 Billion minutes spent reading related content
Taboola's research found that technology-related items – smartphones and computers – were the top Black Friday items in all countries included in their analysis. When broken down by gender, however, it became clear that these items were top of the list mainly for men, with women rating music-related items and food most highly.
Taboola was also able to break down the top gifts by country, as well as by gender. Putting technology gifts to one side, Taboola found cars to be the most popular gift choice in Austria and Germany, with lighting taking centre stage in countries such as Australia, Greece and Norway, and music the go-to purchase in many Asian countries.
Moreover, Taboola found that Amazon and e-commerce brands rise to the top globally when it comes to Black Friday, although China and Russia prefer Apple and Nike respectively.
Lastly, Taboola found a number of helpful tips for how retailers can boost their Black Friday campaigns (see infographics below for more information). These findings include:
Knowing which key words to use in headlines (this year, the top five keywords across all verticals are 'looks', 'photos', 'house', 'she' and 'his')
Using photos to catch the eye (using a photo instead of an illustration increases CTR by 42%)
Using videos (having it in black and white increases completion rate by 42%)