Brexit Tweets get 60% more interactions on Twitter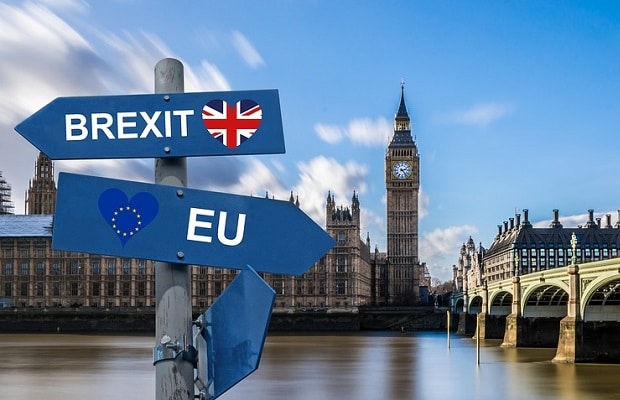 Brexit-related tweets outperform other posts on interactions by over 60% in the UK on some occasions – particularly at times when major Brexit news hit, according to new research.
It's not news that since the 2016 referendum, the topic of Brexit has been dominating our conversations.
New data from Socialbakers confirms this, with the data revealing that BBC Politics tops the list of media outlets posting about Brexit on social media – with the majority of their content Brexit-related (52%).
Key stats:
BBC Politics covers the most Brexit-related content, with the topic dominating 52% of their tweets – while the Telegraph clocks in at only 13.18%
Guardian Opinion readers are the most negative towards Brexit, followed by The Sun Politics – with 26% of their tweets having a negative sentiment – and BBC Politics not far behind (25%)
The Guardian Opinion is the most polarized – with the largest portions of their audience expressing non-neutral reactions towards Brexit-related content (20% positive and 27% negative)
The Guardian Scotland's audience showed the least negative reactions towards Brexit-related content (18.5%)
UK media's share of posts covering Brexit are only 2% more than the EU media and about 4% more than the rest of the world – though the worldwide media on average only post about Brexit 2% of the time, and the UK media a maximum of 10% of the time (around the time of the Brexit delay)
Brexit-related tweets outperform other posts on interactions

 

by over 60% in the UK on some occasions – particularly at times when major Brexit news hit
Non-Brexit-related posts outperform Brexit-related posts by around 50% in the EU
Top British Media posting about Brexit
BBC Politics covers the most Brexit-related content, with the topic dominating 52% of their tweets – while the Telegraph clocks in at only 13.18%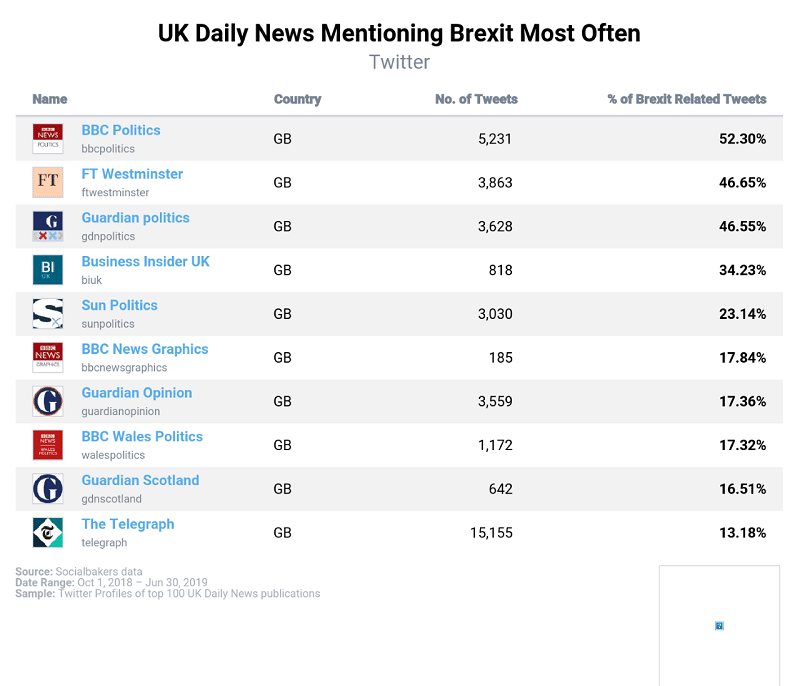 Sentiment towards Brexit from Top British Media
Guardian Opinion readers are the most negative towards Brexit, followed by The Sun Politics – with 26% of their tweets having a negative sentiment – and BBC Politics not far behind (25%)
The Guardian Opinion is the most polarized – with the largest portions of their audience expressing non-neutral reactions towards Brexit-related content (20% positive and 27% negative)
The Guardian Scotland's audience showed the least negative reactions towards Brexit-related content (18.5%)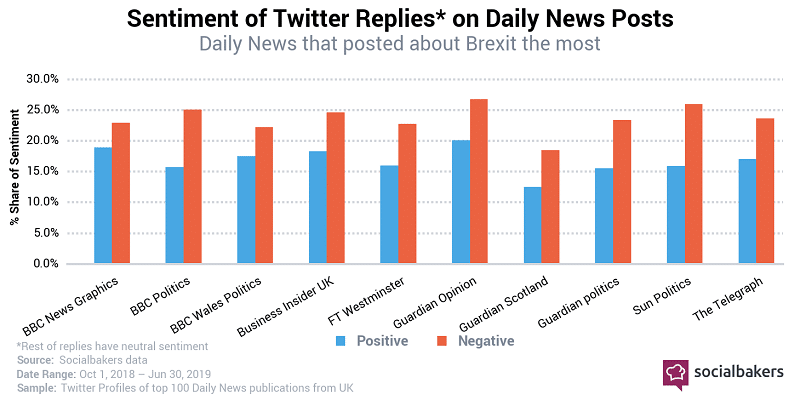 Share of Brexit-Related Posts: The UK vs. the EU vs. the World
UK media's share of posts covering Brexit are only 2% more than the EU media and about 4% more than the rest of the world – though the worldwide media on average only post about Brexit 2% of the time, and the UK media a maximum of 10% of the time (around the time of the Brexit delay)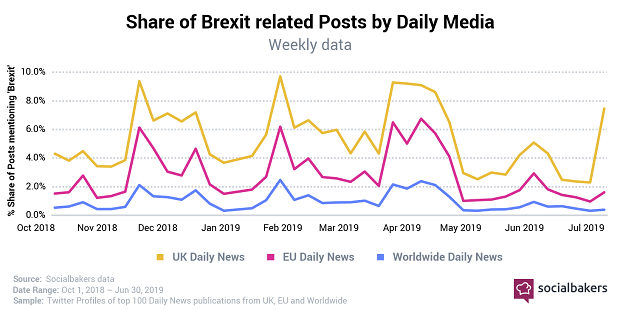 Average Tweet interactions for Brexit in the UK
Brexit-related tweets outperform other posts on interactions by over 60% in the UK on some occasions – particularly at times when major Brexit news hit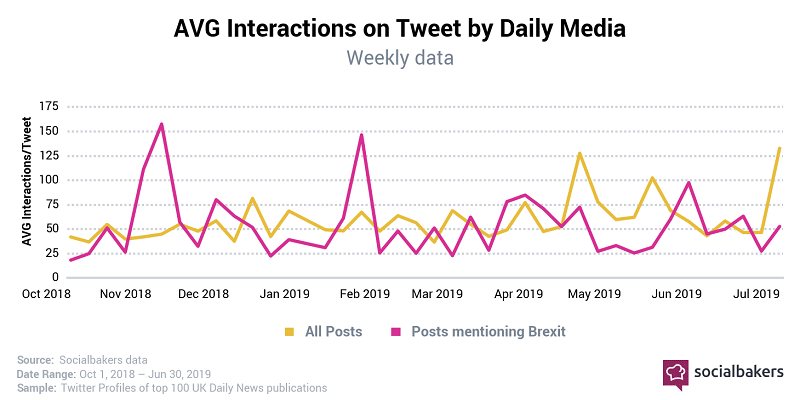 Average Tweet interactions for Brexit in the EU
Non-Brexit-related posts outperform Brexit-related posts by around 50% in the EU