Budweiser promotes all LGBT+ group flags for Pride Month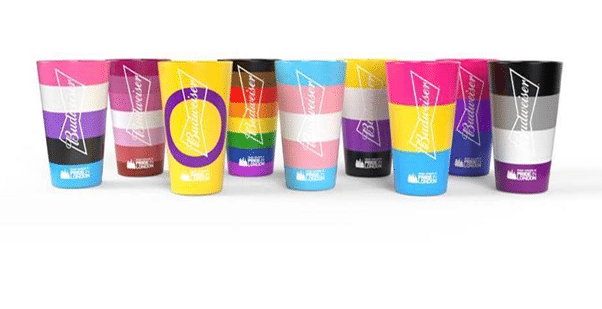 Budweiser has launch of its Fly the Flag campaign, which will support Pride's mission in championing and supporting every group within the LGBT+ community.
After months of working closely with Pride in London, Budweiser has created a campaign that will champion the diversity within the LGBT+ community, giving everyone's individual identities the chance to shine.
Although there is incredible awareness of the rainbow flag – a universal symbol of Pride – flags of other communities under the Pride umbrella don't generally have the same recognition. As each one of these flags is special and represents an identity to those that fly them, Budweiser intends to bring them right to the heart of the celebrations at Pride in London, one of the largest Pride events in the world.
The beer brand has created a collection of limited-edition cups that feature designs of flags from nine individual communities, giving people within those groups the chance to celebrate at Pride, in the year of its 50th anniversary. Budweiser will be handing out 200,000 of these cups for free along the Pride parade route on 6th July, and at events throughout June, including the Pride Pop Up shop in Seven Dials.
As part of the campaign, Budweiser has been working with nine LGBT+ charities, including BiPride UK, The Mix, Transpals, Switchboard, London Friend, Metro Charity, AVEN and Blackout UK who will receive a donation from the beer brand.
In addition to the limited-editions cups, Budweiser will be celebrating and representing all LGBT+ communities at the Pride in London parade, which is set to be attended by millions of people. Budweiser will be creating an epic float that will feature flags for every community under the LGBT+ banner – the greatest ever showing of different LGBT+ communities at Pride – featuring over 70 flags, including the flags of Pride communities and our supporting charities, giving everyone a chance to shine.
Pride-goers will also be able to enjoy alcohol-free Budweiser Prohibition across the event on 6th July and at various events during the Pride month.
Budweiser will also be hosting a series of incredible events throughout Pride month, including the world's first Asexual event, the Ace of Clubs in collaboration with acclaimed asexual activist and model, Yasmin Benoit.
Martina Isella, Senior Brand Manager at Budweiser, said: "For everyone at Pride, Flying your Flag means something different. Each person and community has different plights, fights and triumphs.
"Pride is a time for people to be proud and have freedom of expression, and this is what Budweiser as a brand is all about. We wanted to create a campaign in partnership with all the people that make up the wider LGBT+ community in mind, and we worked closely with our friends at Pride in London to ensure that this campaign was as relevant to as many as possible."
Dan O'Gorman, Strategic Partnerships Director at Pride in London, said: "We're thrilled to welcome Budweiser to Pride in London this year. Their campaign has a real, much needed focus on supporting those communities and groups that continue to be marginalised, so it's great to see Budweiser really 'flying the flag' for inclusion, diversity and freedom of expression. We're excited to be collaborating with a brand that champions equality as much as we do."
Beyond Budweiser's role in Pride Month, its parent company, Budweiser Brewing Group UK&I has become a member of the STONEWALL Diversity Champions programme – Europe's largest lesbian, gay, bi and trans (LGBT) charity – to support LGBT+ inclusivity in the workplace.
Budweiser Brewing Group's employee network for LGBT+ people, allies and supporters, Proud, will work closely with the STONEWALL Diversity Champions team to support its initiatives and give best practice guidance in creating a workplace environment where everyone can bring their authentic selves to work every day.