Cannes Lions: ASICS, Adobe, AB InBev discuss social responsibility of brands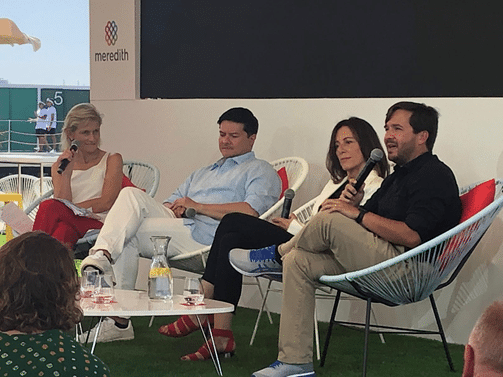 Should brands separate social responsibility from purpose? A lively panel debate a Cannes Lions this week saw ASICS, Adobe, AB InBev discuss the changing role of the brand in society.
The Economist Group (TEG) has returned to the Cannes Lions International Festival of Creativity with a programme of engaging debate and discussion led by The Economist journalists. In its third daily Wake Up With The Economist At Cannes Lions panel, Zanny Minton Beddoes, Editor-in-chief of The Economist spoke with Ann Lewnes, Executive Vice President and CMO at Adobe,;Pedro Earp, Global Brand and Marketing Leader at AB InBev; and Paul Miles, Chief Marketing Officer at ASICS about brand purpose and social responsibility.
Defining 'doing the right thing'
These top marketers were keen to emphasise the difference between purpose and 'doing the right thing'. Paul Miles of ASICS weighed in with this explanation: "doing what's right is what you should be doing anyway, purpose is why you exist."
Ann Lewnes of Adobe agreed, saying that purpose "is the mission of your company" and that social responsibility goes beyond purpose. She expanded: "I don't think purpose is any different from the mission. But everyone in our company cares about what the mission is."
However, purpose can still be used for positive effect, as Pedro Earp of AB InBev explained: while social anxiety and depression is the big disease of the next century, "…our purpose is to bring people together."
When asked how often they use purpose to help make business decisions, Paul Miles confessed "not as often as I think is necessary." He sees his role as changing that culture and mindset, and to build long-term brand value.
Where purpose meets responsibility
In a preview of the Economist's Big Debate held later in the day at the Palais, the panelists discussed specifically how their business's purpose ties into their social responsibilities. Paul Miles said ASICS's purpose harks back to the company's origins in post-war Japan. Their founder, Kihachiro Onitsuka, believed that involvement in sports was a route to improving a broken society and developed running shoes to further this goal. Pedro Earp then spoke about AB InBev's purpose to "to bring people together" rooted in the key role that beer played in creating civilisation in prehistory.
Ann Lewes argued that for a purpose to be legitimate, "your purpose [needs to be] driven by your product; it's why you exist". She also drew a line between purpose and philanthropy, arguing that they aren't one and the same but that they should be connected. As an example, she pointed to how Adobe's purpose to 'enable creativity for all' ties in with their philanthropic partnership with the National Centre for Missing and Exploited Children, using age progression modelling through Photoshop to find hundreds of missing children.
The discussion about purpose versus social responsibility was furthered by Paul Miles who spoke about the danger of "purpose washing" – and the need to integrate purpose into the whole organisation: "Purpose has to be part of everything you do". He encouraged the audience to look at their whole spectrum of activity: how can we reuse what we waste? How can we use the waste material in making products? He explained that ASICS is outfitting Japanese athletes for the Tokyo 2020 Olympics with kit made from recycled clothes. He criticised brands who are trying to act with purpose but in an area outside of their actual practice, stating: "…if you are doing something that isn't relevant and true – that's purpose washing".
Pedro Earp, however, argued there was nuance here – that "brands and companies need to go beyond the business". While brands can't always make money from their socially responsible activities, the efforts do need to be scalable. For instance, AB InBev sells Stella chalice glasses and donates the money for water causes. He argues that purpose becomes what your brand is about.
Employee opinions
When questioned on how to handle the differing political opinions of employees in a large brands, Ann Lewnes said it's important to make decisions based on what is in the interest of the company financially and in the interests of employees, explaining: "We made a very deliberate decision, we were only going to take an issue publicly on issues that affect our business." While immigration falls under that umbrella due to talent, other issues may not. She explained that culture is the most important route to understanding what employees need – "…our employees are so vocal, if we aren't serving their needs, there will be a problem – there will be a revolt."
Pedro Earp added that "I think the purpose-washing comes when people aren't sure what good you are bringing to society" – emphasising the importance of being clear on where your company stands.
Tomorrow's 'Wake Up with The Economist' panel moderated by Andrew Palmer, Executive Editor, The Economist, includes the following world-class line-up:
Marc Pritchard, Chief Brand Officer, P&G
Marisa Thalberg, Chief Brand Officer, TacoBell
Julia Goldin, Global Chief Marketing, LEGO
Wake Up With The Economist At Cannes Lions returns every day at Cannes Lions. To see more on the upcoming talks, see here.