Celebrities reveal their YouTube watch history in new Google series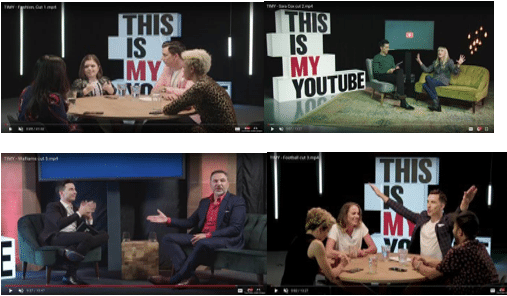 YouTube is launching a new campaign aimed at the advertising industry, giving people a  glimpse into celebrity's favourite  videos and subscriptions.
The campaign is being rolled out across YouTube and LinkedIn, print as well as through in-agency experiential activations.
In five videos where household names discuss 'their' YouTube, the campaign aims to show that YouTube is different to every person – driven by their individual personality and interests. Everyone's YouTube is therefore a unique reflection of their preferences, which is why it is able to capture such an attentive audience .
The five videos feature:
The films are being hosted on YouTube, and are being promoted across YouTube and LinkedIn, print, in-agency ECN screens and through in-agency experiential activations throughout July. Print ads will run across Campaign and Marketing Week.
Across YouTube, ads will run as longer form full episode length skippable ads (10-13 minutes) – a first for YouTube – and in shorter form skippable trailers of 20 seconds.
In-agency takeover days will include full This Is My YouTube branding throughout agencies, with sessions, goodies and competitions among attendees for a Nest Hub Max and creator starter kit. Agencies taking part in the takeover days include Wavemaker, MG OMD, Zenith Performics, MPX and Mediacom. The activations will ensure the target audience is reached in a personal way, while ECN screens promoting the series will be live in Vizeum, PHD International, Republic of Media, UM, Wavemaker, Group M, Mediacom, OMD UK, MullenLowe, Mindshare and VCCP.
The fashion episode discusses sustainability, a relevant message as the industry works to confront  'fast fashion'. This reflects current consumer interests: Google searches for 'ethical clothing' are up +1600% YoY, 'affordable ethical clothing' up +533% YoY and 'vegan women's shoes' up 2100% YoY1¹.
Meanwhile, Paolo Nieddu (Head of Strategy for Copa 90) talks about YouTube's role in the lives of football fans. Copa90's Modern Fan Report says YouTube has become the second most popular platform for consuming football content amongst fans 16-24 years old (behind live TV). Football fans also come to YouTube to watch before (54%), during (44%) and after live matches.² The Women's World Cup in France is causing a surge in viewing of women's football on YouTube. In fact, watchtime on women's football has increased +300% in the last 18 months³.
Nishma Robb, ads marketing director at Google EMEA, said: "This Is My YouTube invites viewers to experience YouTube through the eyes of someone else. We know that we have a uniquely captivated and attentive audience, so we wanted to communicate the magic of the platform by bringing it to life in a personal way. This series has achieved that and more – it's a hilarious, personal and insightful set of films we hope will inspire and educate adland in what YouTube can mean to different people."