Diversity in Advertising report: UK lags behind US for representation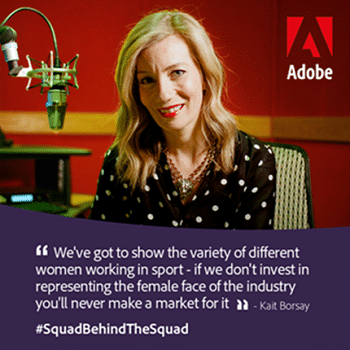 With digital advertising soon to turn 25, Adobe conducted a global survey of over 2000 consumers in the US and UK across generations, gender, ethnicity and sexual orientation to understand what progress is being made when it comes to diversity representation.
The research revealed that for women, ads aren't hitting the mark when it comes to reflecting gender diversity
UK lags behind the US when it comes to making progress.
70% of female respondents feel that their gender is normally portrayed in a stereotypical way in ads (vs 60% of men). In the US, this drops to 55% of women feeling that their gender is stereotyped, suggesting that the UK industry isn't taking the same steps to address the imbalance.
46% of Brits feel that gender portrayal in advertising leans more toward the male gender
However, 71% of women said it was important to them that companies have diversity in their advertising (vs 59% of men) and 70% of female respondents said ads today are more diverse than those they saw three years ago.
Diversity leads to trust but failure leads to customer spurn
69% of British women surveyed said a brand's diversity or lack thereof impacts their perception of the brand's products or services.
1/3 (33%) of women are more likely to trust a brand that shows more diversity in its advertising.
A quarter (23%) said they have boycotted a brand, even if only temporarily, because they felt the brand didn't represent their identity.
Similarly a quarter (27%) said seeing diversity in ads is more likely to increase their likelihood of purchasing a product or service.
Adobe Stock's Squad Behind the Squad
Striving to ensure that content is reflective of society, and to support creatives production of diverse work, Adobe has released a collection of images which celebrates women in football, a traditionally male-dominated work environment.
The Adobe Stock collection features five inspirational women working at the heart of the football industry – from footballers and referees, to sports presenters and FA intermediaries – giving them a platform to tell their story and empower other women to follow in their footsteps.
Recent reports show that whilst media coverage is increasing, women's sport continues to receive less than 10% of sports coverage overall – Adobe Stock hopes to support the drive to redress the share of coverage women's football receives long-term
The five women photographed for the collection are;
Casey Stoney, Former England player and current league coach
Anita Asante, Professional footballer, England International and Olympian
Georgie Hodge, Head of Women's Football at FA registered intermediary Base Soccer Agency
Kait Borsay, News and Sport Presenter, Producer and Voiceover Artist and Co-founder of Offside Rule podcast
Rebecca Welch, Top female referee in the UK in charge of the 2017 Women's FA Cup final