How Starbucks got $2.3bn free advertising from Game of Thrones (without even appearing in the show)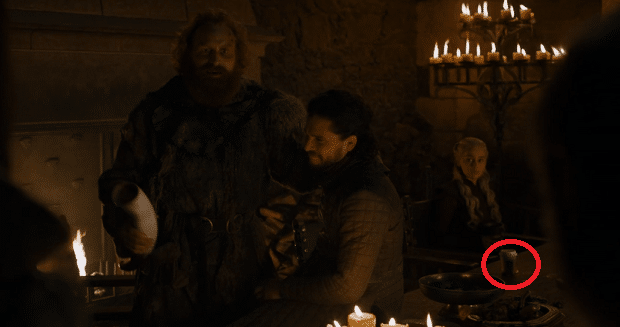 A social media storm helped Starbucks get an estimated $2.3bn in free advertising from a 'Game of Thrones' mistake, and it wasn't even the brands' coffee cup.
A modern-day coffee cup is spotted during the most recent "Game of Thrones" episode. The cup was not from Starbucks, but the association is a testament to its brand's strength.
On Sunday, eagle-eyed fans of HBO's fantasy epic noticed something out of place during a feast scene. Photos and videos of the moment went viral on social media within hours of the show airing.
The label is muddled in shadow, but many fans speculated that it was the iconic green siren from Starbucks — and most of the jokes and discussion called out the Seattle coffee chain by name.
As of Monday morning, it was on Twitter's top 10 trending topics. Also trending on Twitter was the hashtag "Starkbucks," a nod to the unexpected blending of House Stark and the Seattle-based coffee chain. Then truth was the coffee cup was just a generic one from Craft Services.
A close-up of the coffee cup in #GameofThrones pic.twitter.com/6h74N3T2cB

— Jennifer Ross (@JennyFefs) May 6, 2019
Stacy Jones, CEO of marketing company Hollywood Branded, put the estimated value of all the buzz at $2.3 billion. Jones cited PR subscriptions service Critical Mention, which has tallied 10,627 mentions of Starbucks and 'Game of Thrones' online and on TV and radio around the world.
"This is a once-in-a-lifetime collision of opportunity for Starbucks," she said. "But really, this is just the tip of the iceberg, because what isn't being monitored or estimated is the word of mouth and social media on top of this."
Separately, social media analytics and monitoring platform Talkwalker counted more than 193,000 mentions within 48 hours that cited both Starbucks and "Game of Thrones," or a variation of the series' hashtag, on Twitter, in social forums, blogs and news sites.