Marie Claire shuts UK print magazine to focus on digital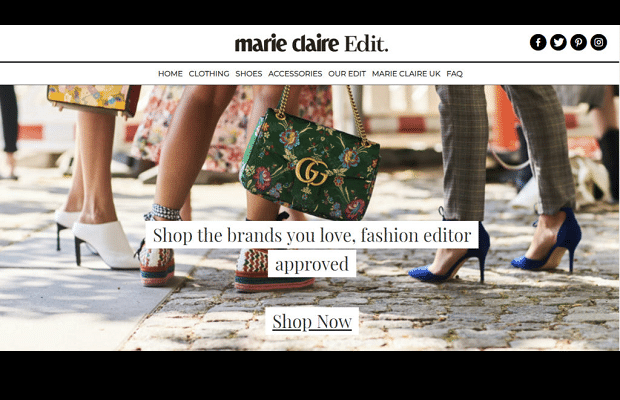 Iconic fashion and beauty magazine Marie Claire will stop publishing in the UK after 31 years, the magazine's owner has said.
A version of the title will continue online, but the print version will join a long list of magazines that no longer appear in print.
TI Media, which publishes the title, has entered consultation with the magazine's 35 UK staff.
As part of that digital transformation, the November 2019 issue will be the final print edition of Marie Claire UK.
Since launching 31 years ago, Marie Claire UK aims to inspire women who want to "think smart and look amazing".
Marcus Rich, TI Media CEO, said: "For more than three decades, Marie Claire UK has led the conversation on the issues that really matter to women – from campaigning for women's empowerment to climate change – while providing a premium fashion & beauty positioning that reflects their everyday lives. With full focus on our digital platforms, we will be future-proofing our ability to report on these vital and engaging subjects, alongside our top ranking fashion and beauty offering and media-first brand extensions, The Edit and Fabled by Marie Claire."
The new digital-first Marie Claire UK will be published under a licence agreement with Groupe Marie Claire. Jean de Boisdeffre, Executive Director, Marie Claire International, adds: "We are thrilled to work with TI Media on this very important evolution of the Marie Claire brand. After more than 30 years of achievement in the UK, this new digital-first approach provides the launch pad for even more success in the coming decades."
By reacting to the changing demands of its audience, marieclaire.co.uk has already established itself as a thriving online destination, with 2m* monthly online users and a social media offering that is enjoyed by millions each month. Its online fashion aggregator platform The Marie Claire Edit is also growing rapidly. First launching nine months ago, consumers can now search more than 6,000 brands and the affiliate platform will soon become the brand's biggest source of digital revenue.
Marie Claire UK has also become a trailblazer in the retail space, with the launch of its premium beauty store Fabled by Marie Claire and Fabled.com followed by the recent announcement of the acquisition of Fabled by Marie Claire by Next Plc.
Marcus Rich adds: "The success of Marie Claire Edit and Fabled by Marie Claire are good examples of how, at TI Media, we can extend our unrivalled content and expertise into the digital space. There is enormous potential for us to drive our ongoing transformation through growing our digital business quickly and it will continue to be a key focus for us."