Marvel versus classic Disney: the battle for Halloween costume supremacy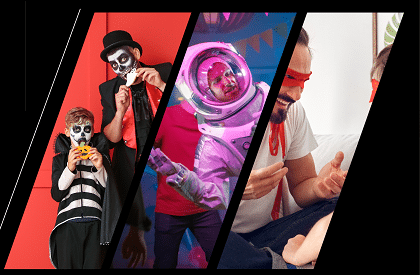 Which Halloween costumes are the most popular around the world: Disney or Marvel? New research indicates that Snow White is the go-to garb for fancy dress in the UK.
With a terrifyingly long list of choices for what to dress up as for Halloween, brands must craft their costume campaigns carefully if they want to cast a spell on shoppers. And achieving that means answering one key question — who do this year's consumers want to be?
As the 31st October creeps upon us, Taboola has moved to solve this mystery by pitting two major forces against each other; Disney and its new superhero branch, Marvel.
Taboola research found only one character remains fairest of them all: Snow White. Despite close competition, the traditional heroine topped the charts in every region; leaving Thor, Captain Marvel, Peter Pan and Cruella de Vil in second to fifth place respectively. There are, however, signs that fancy dress interests could be changing. Although more open web readers were drawn to Snow White content, they spent collectively longer with Halloween articles featuring Captain America.
Variety in costume taste was even greater when evaluation drilled down to country level. Snow White's reign continued in the UK and several other markets — including the US, France and Germany — but Captain America stole the show in India. Interestingly, there seemed to be a preference in Japan and China for ancient warriors with thunder-wielding Thor the overall favourite, while Mexico made a sharp contrast by choosing Mary Poppins.
Finally, Taboola also uncovered useful tips brands can use to enhance their costume campaigns and avoid pitfalls.
Key to driving seasonal treats:
The cross-market terms and phrases that will help headlines captivate costume seekers (including 'take a look', 'the most beautiful', and 'dresses').
Content in haunting hues (black and white proved best for images and video, fuelling 33% higher click-through rate (CTR) and 51% greater completion rates).
Subjects bring outfits to life (images with animals sparked 183% more clicks and those with people as subjects saw a CTR increase of 29%).
Steer clear of nightmarish tricks:
• Phrases that make shoppers scream (such as 'if you like', 'the secret to' and 'find out how').
• Text that spoils costume glory (images without text achieved 70% higher CTR).

Methodology:
Taboola collected and analysed data and key trends from 1st of November 2018 to 11th January 2019 to find out which set of characters would be victorious. Data was used from sites where its products are installed and user permission is granted. This included insights about internet user activity from:
+1.2 million pageviews
+1.1 million minutes spent reading related content