'Pop and Fizz': Pepsi gets new tagline in brand repositioning drive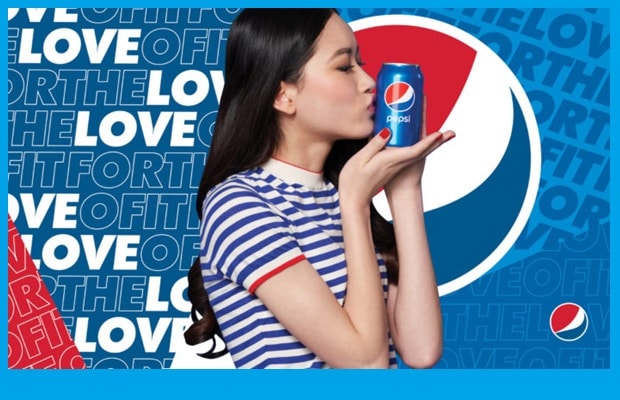 Pepsi has launched a new global tagline, 'For The Love Of It', as the FMCG giant brings the focus of its marketing back to the product.
The tagline replaces Live For Now, which was introduced in 2012.
The soft drink maker has overhauled its marketing to make more of the unique attributes of cola, introducing a new global marketing platform and tagline that marks the first major change to the brand's identity in seven years.
Throughout the year, more than 100 countries around the world will showcase a collection of distinctive content that "champions the cola of today's generation".
Pepsi added that the new tagline was created to "celebrate the pop and fizz of the cola like never before".
The "For the love of it" visual identity and jingle will be brought to life through design-led packaging, out-of-home artwork, and commercials and digital content distinct to each of the brand's offerings.
According to Roberto Rios, senior vice president, marketing, global beverage group, PepsiCo, the campaign is a move at "celebrating" what the brand stands for – an icon rooted in entertainment .
""For the love of it is our rallying cry, proudly saying to go all in for the things you love – from passions and interests like football and music, to unabashedly enjoying one of life's favorite treats – Pepsi," he added.
Now United: Global music initiative
In 2019, Pepsi is joining forces with music industry legend and Spice Girls guru Simon Fuller on his latest venture: pop group Now United.
From China to Brazil and Russia to India, Now United is a new pop concept with 14 singers and dancers from as many countries with millions of followers across social media. The rising stars of Now United will record a refreshed Pepsi jingle and the brand's new musical mnemonic.
Throughout the year while Now United tours the world, Pepsi will create experiences and content with the group and their fans.
"Pepsi has a unique track record in supporting new music talent, as they did when we first worked together on Spice Girls and are doing again with Now United. Its 'For the love of it campaign reflects so many of the positive values which are present in Now United and I know they will inspire and enable the group and their global fan base to embrace their passions like never before," said Fuller.