Pride of Lionesses: 2.4 million more fans of women's football thanks to World Cup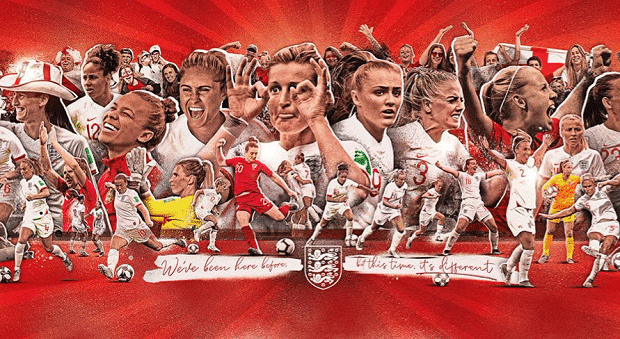 The UK's fascination with this summer's Women's World Cup has helped create an extra 2.4 million fans of women's football since the tournament began, according to new research.
MediaCom, in association with talkSPORT, who surveyed 2,000 consumers across the UK before and after the tournament, found that half (50%) of this year's viewers hadn't watched the 2015 Women's World Cup, highlighting the surge in popularity.
Other findings include:
Fans are now demanding more to be broadcast on TV and radio (54% to 63% after the tournament)
Female fans felt that the adverts spoke to them more than male viewers (73% compared to 50%)
Fans believe women's football needs the support of male and female presenters (71%) to continue to grow
The study showed that this rise is improving perceptions of the sport; fans increasingly believe professional women's teams are as good as the men's (53% before the tournament to 59% after) and that their success is just as well deserved (80% to 86%). This has led to a growth in demand for more women's football to be broadcast on TV and radio (54% to 63% after).
Supporting brands score big
With half (52%) of fans watching the action on TVs at home, several major brands ran inspirational adverts to support the tournament, with two-thirds (66%) of viewers saying they enjoyed them. When it comes to the types of content fans want to see, women felt that the adverts spoke to them considerably more than male viewers (73% compared to 50%), while half (51%) agreed that adverts should show more about the physical skills of the female players. Finally, a third (33%) wanted to see more humorous content, similar to that of men's football.
talkSPORT's internet listening saw an increase of 26% in weekly reach from the start to the end of the tournament and the talkSPORT Twitter page earned an increase of 21,000 followers throughout the tournament.
Pauline Robson, Managing Partner at MediaCom, said: "It's clear that the Women's World Cup has created significant public demand for more of the sport; the tournament was a truly global one and smashed broadcasting records. There's therefore a huge opportunity for brands to help drive women's sports to even greater heights and ensure the Lionesses' legacy continues after the World Cup."
Fans surveyed believe that the sport needs the support of male and female presenters (71%) and popular male commentators presenting it (65%) to continue its growth. Despite this, over seven-in-ten (73%) overwhelming agree that the most important thing is that, regardless of gender, the presenters must be knowledgeable and enthusiastic about the sport.
Head of talkSPORT, Lee Clayton said: "The FIFA Women's World Cup has been a major focus for us this summer and we hope our coverage has helped to inspire the current and future generations of sportswomen. Led by the enthusiasm of Natalie Sawyer, the tenacity of Faye Carruthers and the dedication of the wider team, we saw engaged audiences drive considerable spikes in listening for the tournament. Advertisers are now taking note that women's sport is a strong area to invest. As we approach the new men's season as the GameDay destination for live Premier League action, talkSPORT is committed to a range of leading female voices across our coverage and we are all set to launch our own dedicated women's football programme to build on the momentum."
To learn more about how brands can support women's sporting events, read about MediaCom and talkSPORT's Game Changers initiative here: https://www.game-changers.online/
Methodology
Led by MediaCom's Real World Insight (RWI) team the research – run by Cog Research – surveyed 2,000 members of the general public representative of UK population before and after the Women's World Cup 2019.