Social media fail: Heck makes a pig's ear of 'Boris Banger'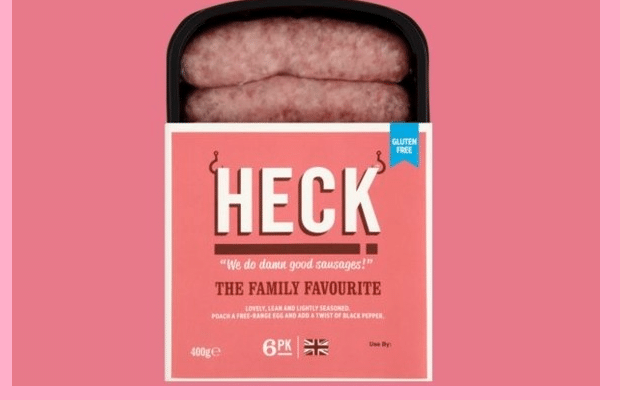 Sausage maker Heck faced a grilling on social media today, after they hosted UK Prime Minister candidate Boris Johnson and created a special 'Boris Banger' in his honour.
During the hustings tour of the area last week Mr Johnson was invited into their factory at Bedale and given a demonstration of sausage making with Boris Bangers top of the menu.
Johnson said he was "insanely proud" to have a banger named after him. But the publicity has caused a social media storm with protests trending on twitter about Heck.
One protester one social media wrote: "Are you off your trolley that is you off my shopping list."
When you spend years creating a quality brand of sausages free from arseholes and bollocks, then ruin it all in one day #BoycottHeck pic.twitter.com/MPf3gR33of

— Martin O'Lowery (@martin_lowe) 8 July 2019
Food blogger Jack Monroe also criticised the move, promoting rivals:
Forgot to do this yesterday, those looking to #boycottheck – I have some substitute recommendations for you.

Green sausages – @asda edamame burgers
Chicken sausages – @Tesco own brand turkey sausages
97% – Asda light and lean pork sausages
Beet sausage – Vivera at @waitrose

— 🇨🇾Jack Monroe (@BootstrapCook) 8 July 2019
The company said they would not be selling any of the special sausages and moved to allay criticism saying you had invited both Tory hopefuls into the factory.
Debbie Keeble co-owner of Heck said: "Fifty per cent of our work force are from Eastern Europe. We invited both candidates for leadership, to come and see us during the York Hustings . Indeed, we welcome anyone to look round our factory, whatever their views or political party. We have always said that Brexit or no Brexit, we have to make our own success, new ranges, exporting and innovating. That's to secure jobs. We do not specifically endorse any candidate, we want to know how our Brexit will affect our business and team. We wanted to seize upon the chance to ask them what they are going to do to secure the long term future of our team. You have to work with who is going to be in power whatever your political view, dialogue is the only way forward.
"The Boris banger was not a prototype. We've made sausages for lots of people who visit. We certainly won't be selling any. Lots of people have been touch from Yorkshire with messages of support which we are very grateful for. By its nature Brexit is hugely divisive but we are only going to make progress by talking."
The company posted a statement on Twitter:
We've seen a lot of people talking about a visit to our factory last week, and we want to make ourselves completely understood. Team HECK x pic.twitter.com/ILx5iutunv

— HECK! (@HeckFood) 8 July 2019
However, some on social media have pointed out that the brand didn't make a 'Jeremy Hunt banger' for Boris' rival in the race to become PM, which goes against the brand's ostensibly 'impartial' stance.
If Johnson is successful in his campaign to become Conservative leader and prime minister of the UK, he has pledged to lead the UK out of the EU by 31 October "come what may", saying the UK would be "match fit" for a no-deal Brexit.
The company, 50% of whose workforce is from Eastern Europe, has in the past been highly critical about Brexit.
#BoycottHeck According to Heck's owner, Debbie Kebble, in 2018 Brexit and the end of free movement "would be cataclysmic," "No one here will take these jobs." https://t.co/RvF3w3l993

— Stephen Waddington (@TeenageDream) 8 July 2019
Construction of a planned visitor centre, provisionally named 'Sausage World', was put on hold in February 2019 after the company failed to attract EU funding due to the uncertainty caused by Brexit. Jamie Keeble, Head of Sales at Heck, told the BBC: "Brexit is creating huge uncertainty and we don't believe there will be any investment from central government to help start-ups. We had tremendous support at the beginning but that has all disappeared down the Brexit sinkhole."