TabMo links outdoor, connected TV and audio ads on mobile advertising platform Hawk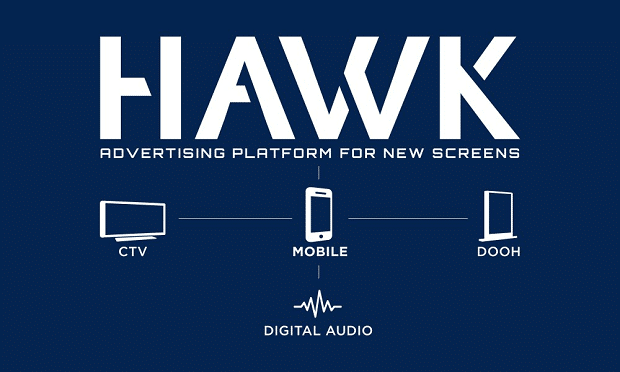 TabMo's demand side platform (DSP) Hawk has connected additional advertising channels to its mobile inventory, giving advertisers a single destination to manage outdoor, smart TV and audio campaigns.
"Brands can now complement their mobile advertising by amplifying their message across additional channels, strengthening their interactions with the audience and
increasing the impact of campaigns. Hawk is unique in enabling users to plan fully integrated cross-channel advertising campaigns through one platform," says Chris Childs, managing director at TabMo UK.
Mobile penetration amongst all age groups continues to increase and smartphones account for 65% of time spent online by UK adults (see Note 1), an all time high. The resulting data generated offers brands a wealth of insight into reaching their desired audiences with highly personalised ad experiences and, as a result, mobile ad-spend continues to grow – surpassing €10 billion in Europe in the first half of 2018 (see Note 2).
Hawk was built for programmatic mobile advertising; the new evolution of the platform recognises that audiences are also influenced by other advertising channels. Connected TV and DOOH are increasingly traded programmatically and audio is rapidly gaining credibility as a hugely effective mobile advertising channel. By activating each of these through one platform, advertisers can control when different messages are displayed across different channels:
Connected TV
For the first time, brands can display content to audiences via TV and mobile, either at the same time or in sequence, boosting the impact of their mobile activity by reaching users via TV sets when they are at home.
TabMo's unique QR code ad format, Scan.TV enables a QR code displayed in the corner of the TV ad to be scanned with a mobile phone. This interaction extends the ad experience by unlocking additional material such as content, vouchers, store locations, show times and social media sharing. Hawk also measures the number of scans (the equivalent of clicks for desktop and mobile) and provides insights such as time of day, country, city and operating system from which they were generated. Consumers that register interest by scanning the code can be retargeted with relevant content on both screens.
Digital out-of-home
DOOH is expected to grow 10.1% each year between 2018 and 2021, and mobile click-through rates (CTRs) increase by up to 15% when supported by OOH (see Note 3).
TabMo takes this one step further, partnering with major outdoor advertising companies so that location data can be used to drive relevant content to digital billboards when users will see them. As with connected TV, TabMo's technology enables audiences to be retargeted from DOOH to mobile providing greater opportunity for brands to connect with audiences.
Programmatic Audio
Audio via mobile presents advertisers with an additional way to reach audiences when they are typically on the move or at work. The one-to-one nature of mobile makes this a powerful opportunity for brand messaging. Using Hawk as the sole platform to manage audio on mobile lets advertisers set the frequency between the two channels and allows for highly strategic media plans in which brands control their messaging and dictate when and how often their ads will appear.
"Successful integrated multi-channel advertising requires the messaging to be tailored around location and context. Controlling each channel via one platform allows us to optimise campaigns in order to truly influence key factors such as brand perception and intent to purchase by adjusting the communications to ensure each touch point plays its part," says Childs. "Adding new channels to mobile campaigns is already further boosting footfall on our drive to store campaigns, but this is just the tip of the iceberg. We're looking forward to working closely with agencies and brands to put together strategies that make best use of our technology to deliver strong results and return on investment for clients."