Teads rolls out financial support to premium news publishers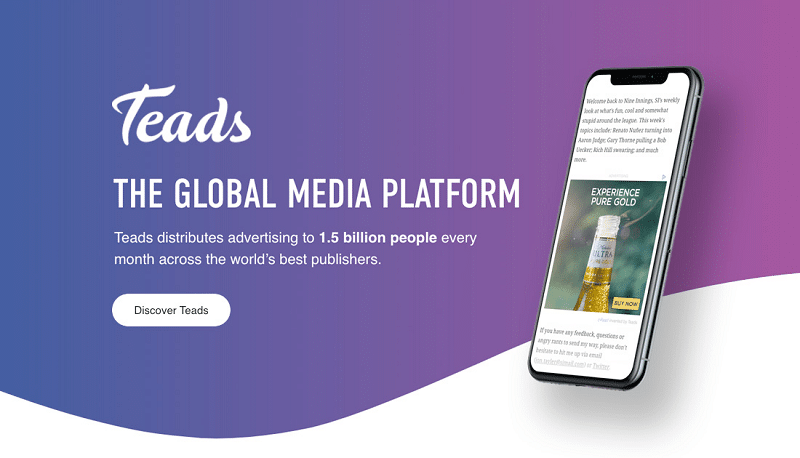 Global Media Platform Teads is providing financial relief to its news publisher partners globally by waiving fees through the end of Q3 2020 for its most unique and proprietary publisher direct sales tools in our Teads for Publishers Enterprise Suite platform.
Teads Audiences for Publishers have been created to offer targeting capabilities covering all verticals. This will give access to its socio-demographic and brand safety data segments free-of-charge during this period.
Teads Prediction AI, a predictive engine that helps maintain the most efficient use of publisher inventory and powers new publisher sales models including viewable CPM (vCPM), Cost-per-Completed View (CPCV) and Cost-per-Click (CPC).
Teads will also provide, at no cost, sales-support and training, insights, education and marketing materials to news publishers to enable them to maximize potential revenue from direct sales of in-article advertising formats.
Eric Shih, Global SVP, Business Development, Teads, said: "As the pioneer of in-read advertising, Teads has over a decade of experience in providing unique and innovative, in-article ad experiences for brands and agencies around the world. We are the leaders in transacting on guaranteed outcomes and providing concrete results for marketers. We will work closely with our premium news publishers and their sales team to help them move beyond CPM as an advertising currency and better meet their clients' needs with our deep institutional knowledge of Teads suite of ad experiences and monetization platform.
"We will be reaching out directly to our news publisher partners about the availability of these no-cost features and services, but encourage both our existing partners and prospective news publishers to reach out with any questions in the meantime."