Top 10 Christmas ads: Tesco beats John Lewis for social media buzz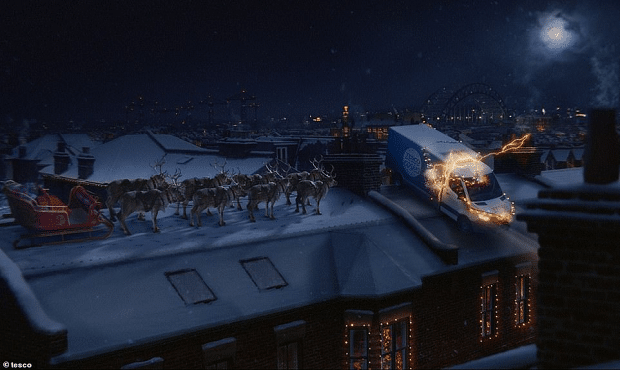 Tesco claimed the top spot in the definitive third annual Top 10 Christmas Ad Rankings by marketing technology company 4C.
The ranking uses artificial intelligence to determine which ads resonated the most with consumers beyond the initial premiere. This year's analysis included 235,870 engagements with public social media posts across Facebook and Twitter between 30th November and 8th December.
Key findings are:
With economic uncertainty hindering Christmas in the UK and an unsettled retail market, brands have opted for price and product-led ads dominate the top 10 Christmas ads for 2019 – with grocers capitalising the most
M&S misses the top 5 to Tesco, Morrison's, John Lewis & Partners, Coca-Cola and Iceland
Morrissons' simple yet effective use of 'food porn' ad takes second place with 137% lift on social after each ad spot on TV and a sentiment score of 74%
John Lewis & Partners' cross channel Excitable Edgar claims third spot with 122% TV social lift score and a low sentiment score of 58% (Elton John ad last year saw a sentiment score of 62%)
In spite of its 9

th

 position in terms of engagement lift for their TV ad, Lidl's pun driven Christmas Cracker campaign generated the highest social sentiment of the year – 78% – engagement (posts/ likes /tags etc) which is positive and not negative.
Tesco's TV ad spots increased social media engagement with the brand by an average of 146% in the five minutes following the start of each advert aired on TV – resulting in the highest 'TV Social Lift Score'. The nostalgic ad plays to consumer desires and trends, taking viewers on a trip down memory lane, travelling 100 years back in time to celebrate the brand's centenary.
Likewise, Sainsbury's also played on their humble beginnings to celebrate 150 years of history, with a film depicting Dickensian London – experiencing an average of 83% lift in social engagement in the immediate five mins post each airing on TV.
John Lewis too took a nostalgic approach with 'Excitable Edgar', however they generated less social traction and trail 11 percentage points behind Tesco. This year John Lewis & Partners took a bold step with their first collaborated campaign with Waitrose & Partners. Taking their campaign cross-channel and, in a first, they created a Snapchat lens, allowing users an Edgar-style makeover.
Aaron Goldman CMO at 4C comments, "This year's ads reflect the simple truth that you don't need huge budgets to engage deeply with consumers. For Christmas ads to go beyond the initial hype, a multi-screen approach is key. Cross-channel video strategy is something John Lewis & Partners, Lidl, and Coca-Cola in particular have nailed this year, with TV, social, and physical deployment of their content."
Top 10 Christmas Ads in the UK: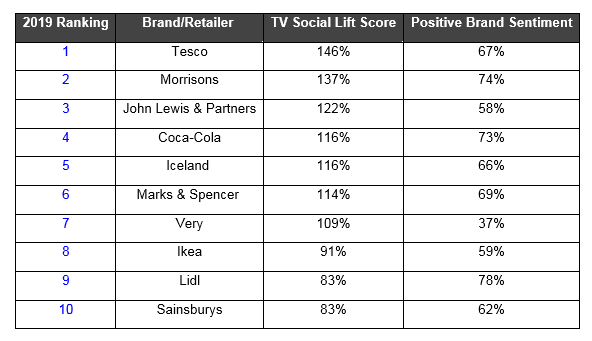 Being authentic and 'real' wins hearts and eyes
With economic uncertainty hindering Christmas in the UK and an unsettled retail market, many brands have opted for price and product-led ads.
Playing off the ongoing popularity of 'food porn' Morrisons launched a simple but tasteful ad. The budget supermarket received 137% lift on social after each ad spot on TV. Sticking to what they do best achieved a sentiment score of 74%, the second highest in 2019.
Goldman continues, "One of my favourite ads of the season, Iceland, also leaned into very current and topical trends by taking advantage of the release of Frozen 2, with the lead characters dotted all over the campaign – naturally playing to the fact that Iceland sell frozen goods. Last year they faced a ban on their ad, playing it safe this year has rewarded the brand with a strong social lift score and sentiment, whilst promoting for Disney the new film as well."
Despite coming in at number nine for engagement lift post ad airing on TV, Lidl, tops rankings by social sentiment. This is no doubt due to the 'pun' campaign strategy they have deployed on social and physical "Christmas Crackers" campaign in close proximity to selected branches of M&S and Waitrose stores. In much the same way as the M&S 'Must-haves' ad, grocery businesses have excelled in championing a festive theme across social.
Goldman concludes "It's all too easy to focus on how funny or creative an ad is. Among the most inventive, IKEA brought Toy Story-esque household items to life with a grime-based musical score. While this tactic was successful, it doesn't lead our ranking. Our artificial intelligence gauges consumer behaviours by measuring tangible actions driven by ads. This approach gives a more complete picture of whether campaigns are effectively resonating across channels and ultimately will lead to sales."