Top tips: How brands can leverage a cultural moment to start a conversation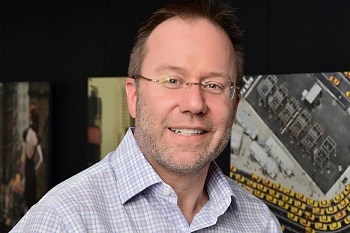 As brands increasingly look to cash in on cultural TV phenomena such as Game of Thrones and Love Island, Lou Weiss, CMO of Shutterstock, looks at how brands can successfully jump on a trending moment, like Love Island, to create unique and awareness-driving content and help them cash-in on these moments.
Creating content that truly stands out with consumers and the B-to-B universe is becoming increasingly difficult for brands. Not only is there more competition to create engaging content than ever, but creatives and marketers have less than three seconds to capture their audience's attention.
To cut through the noise, one thing brands can do is leverage current events in a creative, relevant and timely manner to start a conversation. Whether it's jumping on a hugely popular TV-series, like Shutterstock did with Game of Thrones, or leveraging a trending moment such as Fyre Festival, the ones that stand out have one thing in common: they know what gets their audiences talking.
Take the newest series of the hit reality TV show, Love Island. Many brands including Uber Eats, VO5, Samsung and boohooMAN have leveraged the cultural phenomenon that the show has become. Brands have been utilising content from the show, as well as creating their own short-form content (e.g. memes) to reach their customers. With so much competition, the brands that truly understand what their consumers want are able to cut through the noise and create viral content that consumers can relate to.
Virality starts from a deep understanding of your audience
There is no exact science to achieving virality, but thinking from a consumer point of view will help marketers and creatives assess the situation and evaluate how their brand can join in the conversation. Brands need to think about their content in the literal sense. Ask yourself, will this garner commentary from your audience? Is it highly shareable and will they be comfortable sharing this with other people?
Brands that have been jumping on the Love Island bandwagon have had to think quickly and be on-their-toes to ensure that the content they are sharing is relevant and engaging at that exact moment. With a show like Love Island, which has an episode six days a week, there is likely to be a new piece of content every day that brands will have to leverage to ensure they are part of the conversation throughout the series. This kind of content has short-lived virality, but if a brand can position itself as the go-to place for comical and easy-to-watch content, then the brand can excel its long-term virality as well.
As well as quick-fire content, if brands know that there is a cultural moment coming up that they can leverage, then they can use the time to prepare longer lasting and more creative content. For example, Oreo made waves with its Game Of Cookies, by recreating the entire Game of Thrones title sequence out of limited-edition house emblem-stamped Oreos. The campaign worked well because Oreo produced unique content that was relevant to its brand by tapping into the timeliness of this cultural moment and showcasing how it can be a part of the conversation. The campaign was successful because of how Oreo entered the conversation. At the end of the day, it's a biscuit brand, but it understood its audience — what they watch, what they click on, how they converse — and leveraged this knowledge to create content that was highly shareable.
Assessing the right channel to communicate your message is key
Often, the most talked about and shared creative campaigns are produced by brands that have leveraged the right platforms at the right time. Picking the right channels for a campaign is extremely important. Multiple social platforms can be used to build buzz and it's crucial to think beyond the creative and understand where the chatter is taking place. Oreo's campaign was launched on Twitter, where Game of Thrones conversations not only reside, but thrive. Easy to share, the clip trended beyond its target market and reached new audiences due to its meaningful connection with a global, trending event that millions of people were already talking about. Similarly, with Love Island content, Twitter allows brands to jump on a moment in seconds and share relevant content that millions are already searching for and wanting to share.
Use the opportunity to tap into new audiences 
Leveraging culturally relevant moments allows brands to tap into new audiences and enter conversations they wouldn't typically be a part of.
Fox Sports' Fox League, Fox Footy, Supercars and Fox Rugby all featured a Game of Thrones Round across the network, bringing the cultural phenomenon into the homes of sports fans. Johnnie Walker's White Walker whiskey bottle created a limited edition offering that helped spark the interest of consumers that don't normally buy the brand.
Keeping with the drinks trend, Innocent has been fully on the Love Island bandwagon, regularly posting comical tweets throughout each show. Key sponsors of the show include beauty and fashion brands like I Saw It First, Superdrug and VO5, so by Innocent also making itself part of the conversation, it reaches a key audience that may have overlooked it otherwise.
It's extremely hard to leverage a cultural moment while retaining clear brand messages that resonate with new and old audiences. It's important to therefore consistently listen to audience insights and pay attention to what's trending beyond your own community, in order to identify the window of opportunity that will allow you to jump on a trending moment and create unique shareable content that starts a conversation. It might not always be possible to predict when something will go viral, but brands that are agile and stay on top of trends that are occurring beyond their own walls can increase their odds and stay ahead of their competitors.
By Lou Weiss
CMO