'Uber for graduates': Toptask launches graduate recruitment platform for employers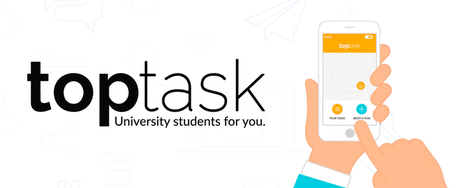 Toptask, an online platform connecting employers and university students, has launched a new recruitment service.
Billed as 'Uber for Graduates', it provides businesses with the best in graduate talent who come rated by employers for the quality of their previous work.
The new platform will enable employers to source university-leavers with a difference – Toptask Recruitment will focus on placing proven talent, which has been vetted by businesses.
Following the success of Toptask's app, the company's freelance platform, Toptask Recruitment is designed to significantly reduce both the costs and time associated with finding graduates for full-time employment, transforming the graduate recruitment landscape.
An employer rating system, where graduates are assessed on past projects they complete, enables employers to personally select the most suitable candidates for their requirements. What this means in practice is effectively a self-vetting ecosystem with graduate talent sourced for businesses, by businesses.
Greg Newman, Founder & Managing Director: "We're incredibly excited about the launch of Toptask Recruitment, our vision is to help businesses source not only talented graduates, but also those who have already worked hard to prove themselves to employers.
"All too often the graduate recruitment landscape focuses heavily on what university graduates attend, we hope that the launch of Toptask Recruitment will disrupt this somewhat tired graduate recruitment regime and shift the focus towards sourcing proven talent which is set apart by a positive attitude and all-important soft skills.
Ultimately, our mission is to simplify the process of sourcing talent and with Toptask Recruitment, we hope to help businesses not only reduce costs but also quite simply, enable other businesses to lead the candidate assessments, taking the stress out of the recruitment process altogether."