Unilad appoints Hotwire for blood donation equality campaign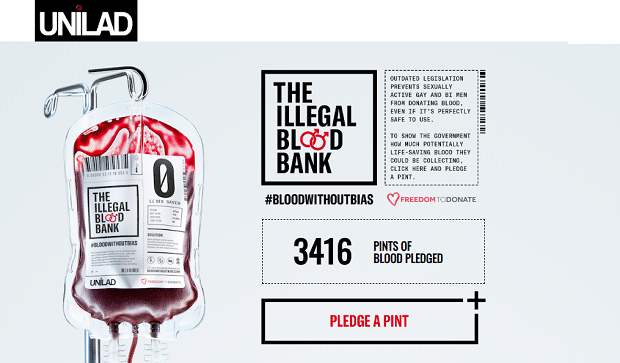 Youth media brand UNILAD has appointed Hotwire to promote its #BloodWithoutBias campaign aimed at raising awareness of the discriminatory policy in the UK's blood donation system. 
Hotwire, the global communications agency, will lead earned media strategy for the campaign, developed in partnership with creative agency, ELVIS. This is the youth media brand's first campaign since being acquired by LadBible Group in 2018.
UNILAD's reaches a global youth audience of more than 430million people per month. It's major new initiative, Blood Without Bias, aims to tackle discriminatory policies in the UK's blood donation system.
Currently in the UK, men who have sex with men (MSM) are banned from donating blood unless they abstain from sex for three months. With the NHS requiring 135,000 new donors each year and donations dropping around Christmas time, the three-month deferral period for MSM means there's a huge pool of potential donors being restricted from giving blood.
In partnership with pressure group, FreedomToDonate, UNILAD opened the doors to the world's-first Illegal Blood Bank for gay and bisexual men, on Saturday 23rd November. This first phase of the #BloodWithoutBias campaign aimed to raise awareness of the discriminatory policy in place and drive MSM to sign-up to donate a pint of blood, either in person or digitally via www.bloodwithoutbias.com, in protest against the three-month deferral period.
Hotwire secured broadcast teams from BBC London News, ITV News London and HuffPost to attend the Illegal Blood Bank, with segments being broadcast over the weekend. In addition, Hotwire secured more than 40 pieces of on-message coverage in national, lifestyle, LGBTQ+ and marketing titles ahead of the Illegal Blood Bank launch, to support recruitment for eligible donors.
Lizzie Barclay, head of marketing at LADbible Group, said, "We believe it's our responsibility to use UNILAD's huge reach to raise awareness about the issues and topics that matter in young people's lives. Hotwire gets this, and got under the skin of our #BloodWithoutBias campaign from day one. The results they've already delivered exceeded expectations and the team's ability to develop, communicate and land strong messaging has really impressed us."
Tara O'Donnell, Managing Director UK, at Hotwire, commented "LADbible Group is known for doing incredible work and creating content which provokes action and reaction from its youth audience. Our team thrives on working with disruptive brands and we're excited to be working with UNILAD to drive maximum impact for #BloodWithoutBias and to play our part in affecting a policy change. I'm proud of the results our team has achieved so far and we're eager to get stuck in to the next phase. Watch this space!"