YouTube shopping ads expand to mobile app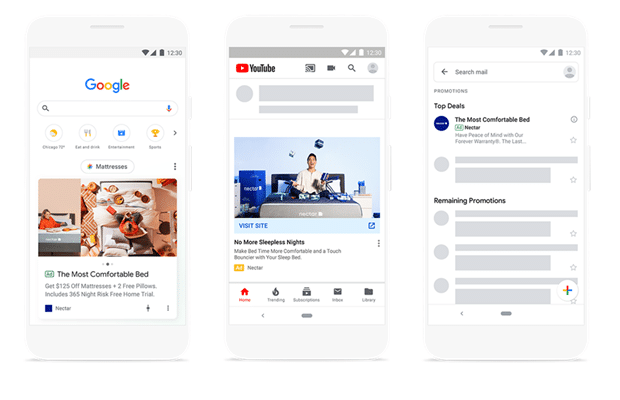 Google is expanding its network of shopping ads to the YouTube mobile app as it looks to take on Amazon in the growing ecommerce ad sector.
On mobile, users will be able to scroll through a carousel of "Suggested Products" that will appear between videos on the home page or at the top of the search results.
Your Shopping campaigns are eligible for this new inventory if you're opted into YouTube on Display Network. This will also opt your Shopping campaign into the relatively new inventory on Discover. Earlier this year, Google announced that Showcase Shopping ads would extend to Discover.
Sitelinks will be available for these ads "in the coming months," which will enable users to access additional landing pages from your video ads.
Google says it's currently testing sitelinks with 30 advertisers and that they have seen a 23% increase in conversions after adding them.
The company says it has seen watch time for "holiday shopping" videos on YouTube increase by more than 4X in the past two years, for example. These announcements are further indication of the power of Shopping ads and Google's eagerness to keep finding more places to show them.
Nicky Rettke, director of YouTube product management, said that as more users come to YouTube for reviews and recommendations, there becomes an opportunity to serve engaging, shoppable ad types.
"We're starting to see some different behaviors on YouTube," said Rettke. "Users can be in very different mindsets depending on what they're doing. Users in an immersive mindset watching a video, they might be a little bit less 'clicky'. A user browsing through their home feed, they're actually in a pretty open mindset to discovering new content."
Retailers like PUMA are excited to reach new customers on YouTube in advance of the holiday season to help them continue the shopping journey. "Consumers are continuing to watch more content on the YouTube platform and we want to be where they are, to reach and engage them," said Rick Almeida, Vice President of eCommerce at PUMA Group. "This new opportunity will enable PUMA to extend our shopping strategy into a new property and inspire consumers."
You can learn about these YouTube updates and more here.
Urban Outfitters is one example of a retailer using Showcase Shopping ads to get into the consideration set and inspire those new to their brand. Urban Outfitters expanded their Showcase Shopping ads to 50 key categories across apparel, home decor, and beauty. Overall, they saw a 241 percent CTR lift across campaigns running Showcase Shopping ads, with 52 percent of those customers being new. Moreover, Urban Outfitters saw a 186 percent increase in sales from new customers via Showcase Shopping ads (compared to reactivated customers).