Distraction-on-Demand: Look who's watching video at work
On average, distracted working people watch 23 mins of video, around 5% of their average working day, according to new research. We have witnessed an evolution in the way people view video. One of the key changes has been the ability to access and view video anywhere there is an internet connection, including, of course, […]
On average, distracted working people watch 23 mins of video, around 5% of their average working day, according to new research.


We have witnessed an evolution in the way people view video. One of the key changes has been the ability to access and view video anywhere there is an internet connection, including, of course, at work.
Latest research by Ampere Analysis reveals the extent of video viewing by full-time employees* in the workplace, what we call 'Distraction-on-Demand' (DoD).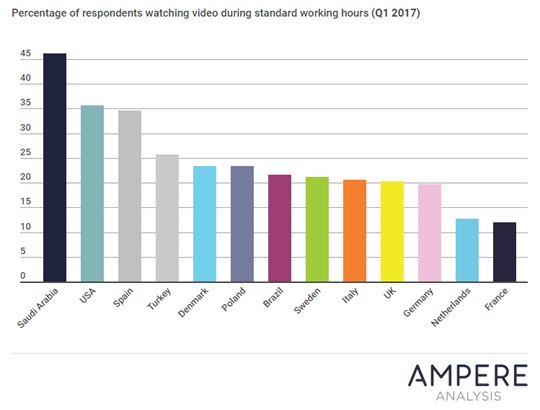 Across the 26,000 respondents surveyed in 13 countries, video viewing at work averaged 23 minutes a day during normal working hours (9am-12pm and 2pm-5pm) on small to medium-sized screen devices (computers, tablets and smartphones). In general, more time is spent viewing video in the afternoon. Netflix subscribers in full-time employment watch about 14% more video during working hours than non-subscribers, reflecting the importance of video in their daily life.
US respondents viewed video for much longer at 42 minutes daily. That equates to 10% of the average working day of an employed American. With 9% (34 minutes) of their working day spent watching video, UK respondents' viewing patterns are similar to the US. At the other end of the spectrum, Polish respondents spend just 4% of their working day viewing video.
Tony Maroulis, Research Manager at Ampere Analysis, says: "These averages over-simplify a complex piece of analysis to understand the amount of distraction at work caused by video content. For instance, our US respondents spend the most time watching video in their workplace, but it's no secret that they also work longer hours than their Western European counterparts. Whether it's Netflix, Amazon Prime Video, YouTube, Snapchat, Facebook or one of the many local video services, it looks like the office 'water-cooler moment' has been replaced by the watching – and most likely sharing – of video at work."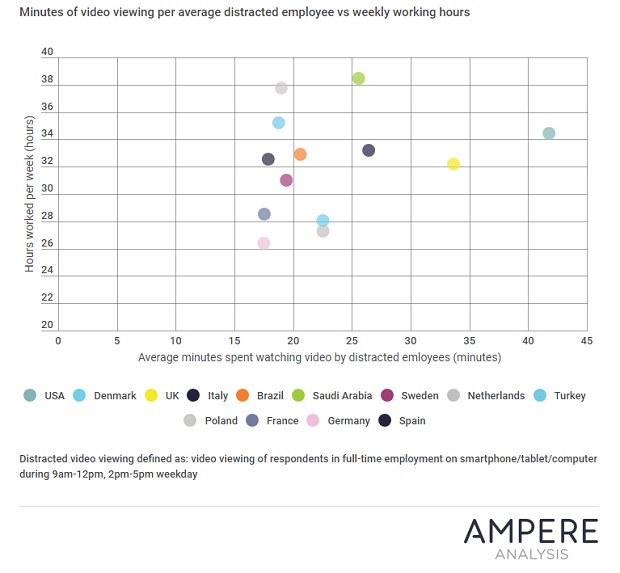 Distraction-on-Demand: The facts
• In general, subscription OTT customers watch approximately 10% more video during a working day than the average working consumer.
• Netflix subscribers in full-time employment watch about 14% more video during working hours than non-subscribers.
• The most productive time is between 9am and 12 noon, the three working hours when employed respondents watched the least video. The average full-time employee watches less than 10 minutes of video in the morning, versus around 14 minutes in the afternoon.
• Millennials (18-34 year olds) are more likely to watch video during working hours, consuming one hour of video more than the average respondent over the course of a month. This is roughly three minutes per day more during working hours than those aged 35 and older. Both groups of consumers watch similar amounts of video during their lunch breaks (12pm-2pm).
• The highest earners (with a household income of more than $100,000) are most likely to watch video during working hours – reflecting a skew towards office work and possibly job security.
• People who watch video during working hours are also big spenders on TV. They are 9% more likely to take Pay TV, 20% more likely to take SVoD services such as Netflix and Amazon, and 40% more likely to take premium channels – in particular, the sports channels.
• There is no gender difference in viewing video during working hours.
www.ampereanalysis.com