Most downloaded TV and Film apps revealed
YouTube easily beats the traditional television channels on the app front, with 68% of Brits having it on their phones; the nearest rival was the BBC on 31%, according to new research. The study, from Carphone Warehouse, also reveals 72% of phone owners in the UK use video streaming apps of some sort and that […]
YouTube easily beats the traditional television channels on the app front, with 68% of Brits having it on their phones; the nearest rival was the BBC on 31%, according to new research.


The study, from Carphone Warehouse, also reveals 72% of phone owners in the UK use video streaming apps of some sort and that BBC iPlayer, LOVEFiLM by Post, ITV Player, 4OD, Sky Go, Netflix were all in the UK's top 40 most downloaded apps.
Key findings:
68% of Brits have YouTube on their phones
BBC iPlayer, LOVEFiLM by Post, ITV Player, 4OD, Sky Go, Netflix all in UK's top 40 most downloaded
72% use video streaming apps
YouTube tops the charts with 68% of British phone users having the app on their phone – the 3rd mist downloaded app in the country.
Combined, the BBC Media Player and iPlayer is on 31% of UK phones, dwarfing ITV Player (12%), All4 (11%), Sky Go (10%) and Netflix (9%).
There is still a significant number of the population who have a more traditional approach to film rental; the LOVEFiLM by Post app is on 15% of phones. The IMDB app came 39th in the overall list, with 8%.
72% of UK phone users use video streaming apps (Gender split: male 53%, female 47%).
Carphone's App map of Britain shows where each app's biggest fans are located. It ranks the apps in order of their greatest share of users for location, gender, age group and salary band.
Most Popular Apps in the UK
Facebook still rules supreme on British smartphones, closely followed by Google Search and YouTube.
Top 40 used apps in the UK in the last 12 months with the percentage of people in Great Britain who used the apps.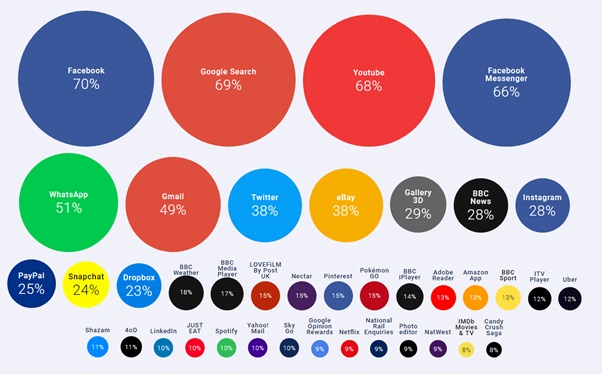 45% used music apps on their phones (Gender split: male 55%, female 45%)
18-24 year olds are the age group that used social media/messaging apps (31%), video/streaming apps (30%) and music apps (36%) the most.
 
38% played gaming apps on their phones
Over 55s used gaming apps (33%) more than any other age group, and almost double the amount of women (66%) used gaming apps compared to men (34%).
15% of Brits played Pokémon Go. 8% of Brits used Candy Crush. Angry Birds is more popular among men (83%) than women (17%). Pet Rescue Saga more popular among women (78%) than men (22%).

16% used food apps
Food apps were more popular with men (62%) than women (38%).
Southerners accessed the most food apps overall (23%)
Three times as many people used Just Eat (10%) compared to hungryhouse (3%).
How Carphone uses YouGov data
Data for Great Britain's apps and demographic preferences were extracted from the YouGov Profiles tool. Apps included in the survey exclude a large number of pre-installed or default system apps,"bloatware", non-English language apps and apps with no discernible origin. Apps that are only available to a particular network or are handset exclusives have also been removed. Where duplications for UK and global formats existed, survey results were combined.
Regions surveyed include the North, the South, Wales, Scotland, the Midlands, the East and London. Excludes Northern Ireland. This data was taken from a survey spanning from January 2017.
More information on Carphone Warehouse's research is available here: http://lowdown.carphonewarehouse.com/the-app-map-of-britain/