Top Winter Olympics brands: Samsung wins (but Red Stripe takes unofficial medal)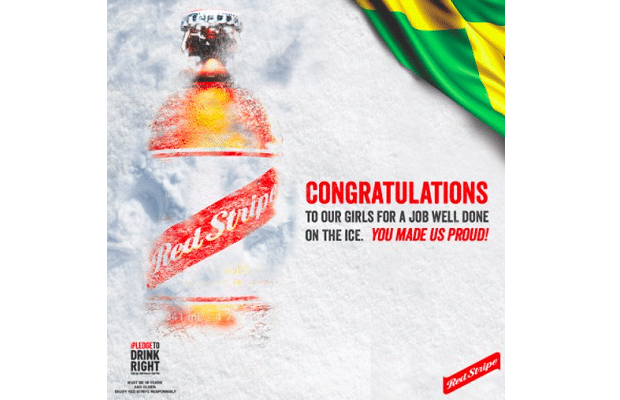 With the Winter Olympics now over, social media analysis reveals that Samsung, Ralph Lauren and Intel were the Top 10 brands most associated with the Winter Olympics.
The study, from Amobee, also found that Red Stripe although legally not allowed to mention the games in advertising, saw a 130% increase in digital engagement associated with the games, with #RedstripeToTheRescue and #SleighAllDay. Following them stepping in to save the Jamaican Bobsleigh team.
Samsung was the brand with the most Olympics related digital content engagement (between February 9-25, 2018). Interestingly, they gave away free Galaxy Note 8 phones for Olympians with some confusion if North Korean and Iranian athletes would be able to keep them.
Ralph Lauren ranked second with 57% with dressing the United States Olympic Team around the Opening and Closing ceremonies of the game. This included the suede, frilled gloves of the opening ceremony being talked about along with Maia Shibutani and Alex Shibutani. They tried to contact the K-Pop band BTS to give them Ralph Lauren hats with their names on them.
In the same time period, Intel received 52% Olympics related digital engagement. Intel put on a show during the opening ceremony where drones created the Olympic rings in the sky. This was supposed to be live but due to technical difficulties aired pre-taped.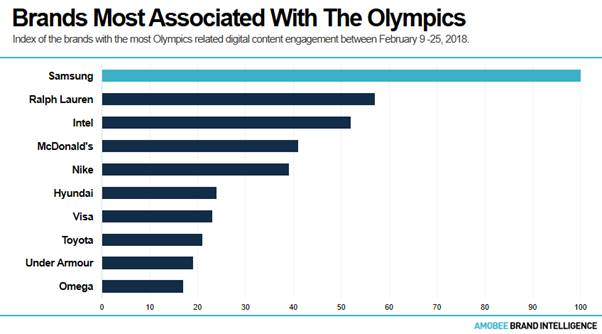 McDonald's had 41% digital engagement. While McDonald's officially ended their decades long sponsorship of the Olympics, they still provided a popup location of the fast food chain in Olympic village feeding athletes for free.
#RedstripeToTheRescue all started with Jamaica's women's bobsleigh coach Sandra Kiriasis quitting while at the games because of a dispute with the Jamaica Bobsleigh Federation. Kiriasis claimed to own the sled they were using so there was uncertainty if the Jamaican team would even be able to compete. However Red Stripe, a Jamaican brewed lager owned by Heineken, stepped up on social media and offered to pay for the sled.
Since that offer was accepted, digital engagement for Red Stripe increased by 130%, comparing Feb 16-23 to Feb 8-15, 2018. In the Feb 16-23 time period, 45% of all Red Stripe digital engagement was Olympics related, despite the fact that Red Stripe was not legally allowed to mention the Olympics in advertising. Hashtags most commonly used for their helping hand for the Jamaican Bobsled team were, #RedstripeToTheRescue and #SleighAllDay.
Jonathan Cohen, Principal Brand Analyst, Amobee comments; "The most memorable brand appearances around the Olympics are the most unexpected, for instance Ester Ledecká borrowing someone else's Atomic Skis to come from nowhere and win the women's Super-G or Red Stripe stepping up to pay for a Bobsled for the Jamaican team. In that context, it's critical that brands have an agile strategy to identify opportunities, react, and shift resources around live events they're involved in. When your company's own Atomic Skis moment comes, amplification is necessary to optimise audience awareness."
Brands Most Associated With The Olympics
Ranking of the brands with the most Olympics related digital content engagement between February 9-25, 2018.
Samsung
Ralph Lauren
Intel
McDonald's
Nike
Hyundai
Visa
Toyota
Under Armour
Omega
Source: Amobee Brand Intelligence