YouTube launches 'Pods': Skippable back-back video ads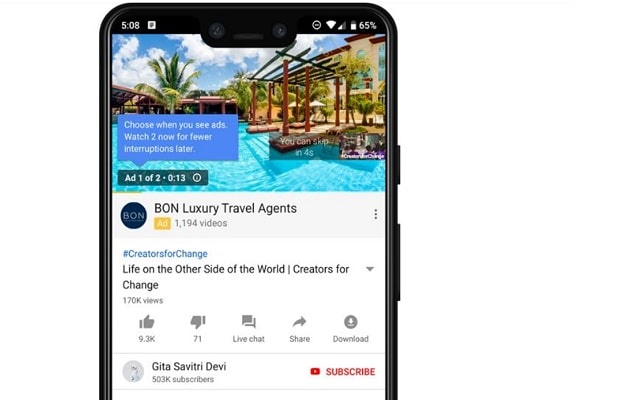 YouTube has announced a new ad format called ad pods, which are served on longer form content and stack two skippable ads back-to-back.
YouTube said that it is testing a format that stacks ads in order to cut down on the number of interruptions that occur for viewers. Through its research, the platform said, "we learned that fewer interruptions is correlated with better user metrics, including less abandonment of content and higher rates of ad viewing."
Ad Pods can take several different forms, such as: two skippable ads, a skippable ad followed by a six-second unskippable spot (known as a Bumper Ad), a Bumper followeed by a skippable ad, or two consecutive Bumpers.
The new format will launch on desktop devices this year, and will subsequently roll out to mobile and TV screens.
When users engage with those two ads – either two skippable in-stream ads or a skippable in-stream ad and a 6-second bumper ad – in a break, they will experience fewer interruptions in the session.
YouTube will include notifications in the UI to indicate to users that by watching multiple ads at once, they will experience fewer ad breaks later on in their session
In early experiments, ad pods increased TrV Views our voluntary ad views by up to 10%, and reduced site abandon rates by 3-5%.
Ad pods are ad breaks designed for the YouTube's digital audience, because they are relevant and offer users choice, while limiting the number of interruptions.
For viewers who do not want to watch multiple ads at once, they can still skip TrueView ads and go directly to their selected content.
That means if a user skips the first skippable ad in an ad pod, the second ad is not served and they go directly to their selected content.
This new experience accommodates viewer preferences while continuing to help creators monetize their content and advertisers connect with their most relevant audiences on YouTube.
How Ad pods work:
Not 100% of users will see ad pods every time they want to watch a video.
If the user skips during the 1st ad, they will go directly to their content, and no additional ad will be served.
The 2nd ad will only serve if the user watches the 1st ad to completion.
Users who experience an ad pod with a bumper in the first slot and skippable in second slot will be able to skip directly to their content during the skippable ad in second slot.
When uses are served two six-second bumper ads, they will not have the option to skip either.
Reservation and non skips are not included in Ad pods at this time.
Key things to note
Ad pods have two ads.
Ad pods are only served for longer form content of at least 5 mins.
Ad pods will be available globally on desktop first, before expanding to mobile and living room screens.