Best and worst connected UK cities revealed: Exeter only gets 6% 4G coverage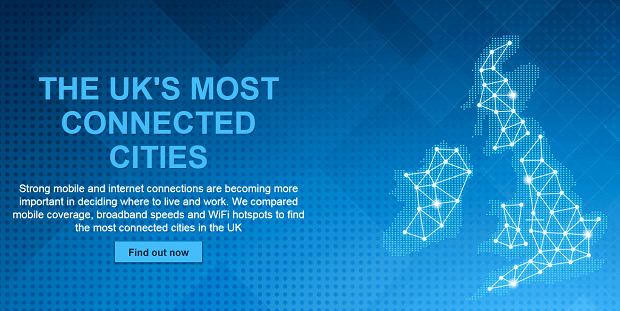 Exeter is the UK's worst connected city with only 6% 4G coverage, with digital investment still acutely needed in cities across the country, according to new research.
By 2020, high-speed broadband is set to become a legal right for homes and businesses across the UK, who will be able to expect a minimum speed of 10mbps.
However, April's County Councils Network (CCN) report indicated that two-thirds of the UK has below-average download speeds. This sets the UK's businesses at a distinct disadvantage compared to its competitors in nations such as Japan, where 97% of the country is serviced by high-speed networks.
It is clear that technological investment is desperately needed in the next 18 months, so which cities require it more than most?
New data from GoCompare compares and contrasts 57 major business hubs across the UK, taking into account an array of digital infrastructure such as WiFi availability, Broadband speed and mobile/4G coverage. The results were collated into an interactive visualisation where you can see the overall ranking or sort cities by the three connectivity criteria.
Key findings:
Exeter has the worst broadband speed in the UK, and is one of the poorest areas for mobile coverage – however it has a relatively high number of public WiFi hotspots
Unsurprisingly, London is the best-connected city with 61% 4G coverage, and nearly 700 people per public wifi hotspot
The 10 best-connected cities

Unsurprisingly, some of the biggest cities in the UK are also the most connected. However, there are some surprises in the top 10.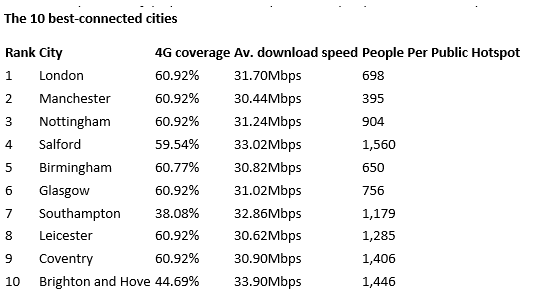 The worst-connected cities
The worst-connected UK cities are spread across the South of England, Midlands and Wales. Where these cities fail in mobile and broadband connectivity, some make up for it by offering a higher number of public WiFi hotspots per person. The full breakdown of the bottom 10 is:
Beyond Business – Digital Inequality
Digital infrastructure goes far beyond affecting business. The internet reaches into our personal lives, allowing the world to become more connected than ever before and opening up social and even romantic opportunities. However, the data indicates that where you live can greatly impact how many of these opportunities you are able to take advantage of, which is another manifestation of 21st Century inequality.
Martyn John, from GoCompare, comments: "As a technologically advanced nation, the UK could be expected to provide its population with equal access to high-quality internet. However, this study goes to show that more needs to be invested in some cities to offer their inhabitants the same online opportunities that people in London or Manchester receive."
To see the full list, deep dive into any of the cities mentioned, or directly compare any two cities head over to the results here.