Valentine's seasonal marketing campaign: Thortful talks the language of love in cross platform campaign (UK)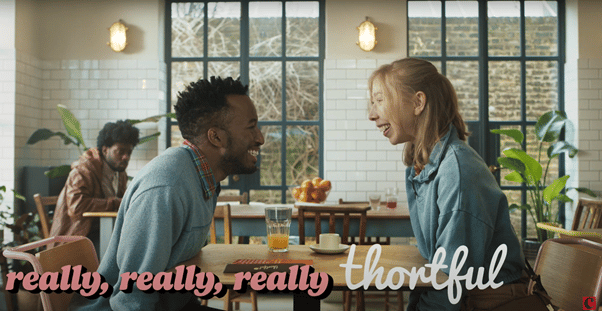 This small brand ran its first big campaign to drive ecommerce sales and put the brand on the map – providing a good example of how to accelerate an ecommerce business.
Summary
Small brand with its first big campaign
Fresh creative approach with distinctive assets
Intuitive shopper journey that could convert browsers into buyers at a low price point
Seasonal marketing used to drive trial and database building
Challenge
As a young digital brand, how do you get noticed? In a category like greetings cards, where the barriers to entry became small and marketing automation became high, companies need both distinctive brand assets and a seamless customer journey. Could a seasonal campaign be used to drive trial and build a database for remarketing?
Solution
Thortful launched its first major integrated campaign, with highly distinctive creative that would work well in radio and VOD environments where people were only a click away from ordering. The 'dolphin' characters are striking and the tagline is suitably memorable ("that's really really really really really really really thortful").
The concept of a couple speaking their unique language of love is engaging and playful. It lends itself well to integrated approaches and the media schedule combined TV, VOD, social, radio, and broader digital channels – with the goal to drive brand awareness and bring people into the site.
The ecommerce platform is simple, intuitive, enables message personalization, and has short shopper journeys. It's a best-in-class example of its category, showcasing the designers and giving shoppers more reasons to buy.
The campaign was developed by independent creative agency Isobel, and the TV commercial was directed by Mike Maguire, through Outsider, with media planning by Mostly Media.
Results
Clearly, this drove trial and built a database of customers ready for remarketing. By knowing which artists buyers were interested in, future targeted messages for product offerings could be sharp and relevant.
Why it matters
Seasonal marketing can work to draw people into a brand for the first time. If the digital touchpoints are set up well, this can become a brilliant database-building moment. And for this category, the low price point for a single order encourages people to try it out.
Need more on seasonal marketing?