Amazon to sell cashier-less tech to rivals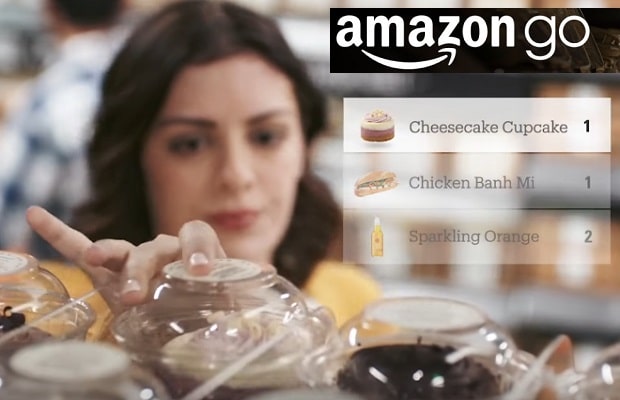 Amazon is to launch a new business line that sells the technology behind its cashier-less convenience stores to other retailers.
The "Just Walk Out" technology enables shoppers to "take what they want and leave" without the need to stop and stand in a checkout line.
Cameras and other sensors through the store monitor which items shoppers take with them and charge them automatically when they leave.
Amazon said it takes a few weeks for it to install the cashierless technology in retailers' stores, depending on whether it's being implemented in a new or existing store.
For existing stores, Amazon said it will "work with retailer to install the technology while minimizing impact on current operations."
Unlike at Amazon Go stores, where users scan the Go app on a turnstile when they enter, shoppers scan their credit card on the turnstile at a store with the Just Walk Out technology.
If shoppers need a receipt, they can visit a kiosk at the store and enter their email address, Amazon said. A receipt will be automatically sent to their email address the next time they visit any store with the cashierless technology.
Amazon can tailor marketing and gain valuable insights into customer purchasing habits by tracking activity at its Go stores. However, Amazon said it won't collect any other user data beyond a shopper's email in order to send receipts.
The move comes as Amazon continues to build out its network of 25 Go stores across the country.
Last month, Amazon launched its first, full-size, cashierless supermarket, called Go Grocery, not far from its Seattle headquarters. CNBC previously reported Amazon is considering bringing the technology to airport shops and movie theaters
Hugh Fletcher, Global Head of Consultancy and Innovation at Wunderman Thompson Commerce, argues that this is part of Amazon's quest to own customer data and dominate the retail market both online and in-store.
"Amazon's latest business venture is the next step in the retailer's quest to dominate the retail industry," Fletcher said. "Over the past few years, Amazon has expanded into several different markets, including entertainment and grocery – but has recently begun to focus on how it can innovate the in-store customer experience. It has almost single-handedly reinvented the shopping journey with its one-click delivery, next-day guarantee with Prime and first to innovate the high street with its Amazon Go checkout-less experience. And this is in response to new consumer demands; in fact, 47% of online consumers say they are excited about cashless shopping, while 39% are excited about the possibility of checkout-free stores like Amazon Go. It means that Amazon no longer has to rely on building its store network, but can instead offer its infrastructure to already established physical retailers.
"This approach of 'aggressive horizontality' is all part of Amazon's broader plan to own customer data. It has already demonstrated its ability to do so with its online marketplace, which has resulted in 72% of commerce leaders saying they need to invest more money in the platform. The latest move indicates that they plan to do the same with bricks-and-mortar retailers. This is because Amazon knows that if you own the interface, you own the customer; if you own the customer, you own the data. But most importantly, if you own the data, you own the future. And Amazon sees its future as a dominant force both online and on the high street."