IAB Europe publishes guidance to drive transparency in digital advertising supply chain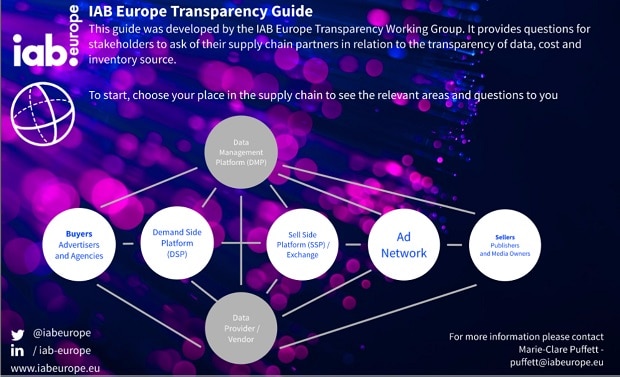 IAB Europe has published its Transparency Guide with the aim of improving transparency in the digital advertising supply chain in the areas of data, cost and inventory source. The guide provides questions for each stakeholder category to be asked at different stages of the supply chain.
IAB Europe's Transparency Working Group1 was formed earlier this year in response to advertiser demands for swift, transformational change in accountability and transparency. The group, formed of representatives from the buy and sell-side, has developed the guide as a first step to driving transparency within the digital advertising supply chain.
Digital advertising is at a turning point with half of European display ad revenue now traded programmatically. Continued growth will therefore be dependent on unlocking further programmatic spend and transparency is cited as a barrier to investment by 40% of advertisers.
The guide, which is the first output of IAB Europe's work programme on transparency, aims to aid buyers and sellers alike in achieving best practice.
Dominique Delport, Global Managing Director, Havas Group said: "Innovation and education must work hand in hand. This is why we chose to launch the industry's first fully transparent client facing programmatic solution – our Client Trading Solution (CTS) at this year's IAB Europe Interact Conference. We then offered demonstrations at both Interact and other events such as Cannes. IAB Europe's 'Transparency Guide' further boosts levels of education and understanding of the programmatic supply chain. In our view, it provides a valuable starter kit of critical questions, across data, costs and inventory sources and will help us, as an industry, work together to raise standards."
Simon Halstead, Chair IAB Europe Programmatic Trading Committee and Head of Open Demand International, Oath said: "With trust and transparency high on the industry agenda, IAB Europe's Transparency Working Group wants to empower all parties to be able to ask good questions of their partners. This guide enables partners to identify the right questions in the area of transparency they are keen to explore. As the industry evolves with initiatives like IAB led Ads.txt and the impact of GDPR, all parties need to engage in detailed conversation to drive transparency."
Daniel Secareanu, Board Director of IAB Europe and Chief Digital Officer, Burda Romania said: "In order for the programmatic trading ecosystem to continue to grow and provide added value to the industry and its stakeholders we need to make sure that everyone has a clear image of how this ecosystem works. We can only do this by ensuring that the programmatic trading currency (inventory & data) and its supply chain are fully transparent to everyone involved in it."